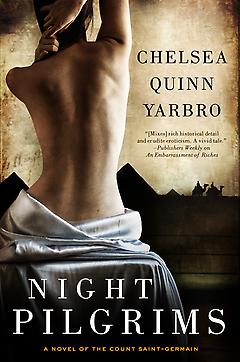 Vampires are everywhere, and that includes in 1225 on a pilgrimage to Ethiopia in Night Pilgrims by Chelsea Quinn Yarbro. This is the first book by Yarbro that I've read, but it is the 26th Saint-Germain book that she's written following the vampire through the ages. Interestingly, this book is less about him being a vampire and far more about the political and personal issues with pilgrimages traveling through Egypt and Ethiopia.
At the start of the novel, Saint-Germain is living in a monastery where he serves as a physician under the name Sandjer'min with his servant Ruthier, who is a ghoul – an avenue really never explored in the book aside from mentioning that he eats only raw meat. With the political climate changing in Alexandria, foreigners are becoming more and more suspect, so it is time for Saint Germain to move on. Luckily, he receives a missive from Sieur Horembaud who is leading a pilgrimage and needs a translator.
Each of the people on the pilgrimage is traveling for a different reason, some of which are explored throughout the novel and some of which are left partly cloaked in mystery. This is not at all a typical vampire novel with no real horror. Saint-Germain's role is that of translator and physician to the party, and that is all he does, aside from periodically and discreetly feeding upon the animals in the party to sustain himself.
The novel is at times ponderous. It took me multiple chapters before I got into the rhythm of the book, and I wonder if Yarbro might not be getting a little bored with writing about Saint-Germain by her 26th book. I kept waiting for something to "happen" or for there to be a major plot point with conflict, but it never truly arose. The pilgrimage simply continued on, with Sieur Horembaud suspicious and jealous of Saint-Germain, a pilgrim dying of his sunburn, and a woman making the pilgrimage in the hopes that her husband would be healed becoming strongly attracted to Saint-Germain.
Each chapter starts or is broken up with text of letters sent amongst various personages during the time of the pilgrimage, some of which involve members of those in the pilgrimage and many only tangentially related, providing some historical and political background. For readers unused to this style, it can be disconcerting as you try to piece how the letters relate to what's happening in the book.
By the time I was two-thirds or so the way through the book, I was more engaged in it and intrigued to see how the pilgrimage would end and what would happen to each of the members of the party. The characters of Saint-Germain and Ruthier are fascinating, and I want to know so much more about them. Waiting for them to do something or something to happen to them was frustrating in this book, however.
It was a fascinating look into the issues in the early 13th century, both political struggles with Ghengis Khan invading from Asia and the tensions between various Christian sects and followers of Islam, as well as the challenges in communication amongst all the various languages. The description of travel is stark and brought a reality to it that I hadn't considered previously.
Given that it's the 26th book – and it does stand on its own – I know that this has been a popular series and well-received. I may pick up a book from earlier in the series to see how it compares, but I don't know that I would run out to get the next installment of the Saint-Germain novels.
Written by Michelle who is grateful now more than ever that she didn't live during the Crusades. See how she spends her life in the modern era via her blog Honest & Truly! or follow along with her on Twitter where she is also @HonestAndTruly.