I received a copy of this book to facilitate my review and was compensated for writing the post at 5 Minutes for Mom, but as always my opinions are my own.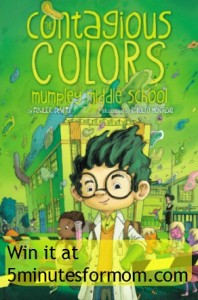 I jumped on the opportunity to review this book when I had the chance, because it seemed like exactly the sort of book that my 4th grade son enjoys — funny, kind of science-y, but with a realistic school setting. He hasn't had a chance to read it yet, but after seeing me reading it, he said that he definitely wants to.
Wilmer Dooley is in 6th grade. The Contagious Colors of Mumpley Middle School kicks off with an entry in his brand new journal, day 2 (as an interesting twist, the journal ends with day 1, once all the secrets have been revealed).
Wilmer has two goals for 6th grade. One is to win the heart of Roxie McGhee (Parental observation: Why must all books, books that 9 – 12 year olds are reading, feature these romances and crushes?? It was a cute plot element that might make the book more interesting to girls, and it wasn't too over-the-top at all.). His second pursuit is to win the Sixth Grade Science Medal.

Read my full review, and watch a really cute tongue-in-cheek book trailer over at my full post at 5 Minutes for Mom.
This giveaway is closed.
Check out our current giveaways. Subscribe to our feed. Follow us @5M4B on Twitter or on Facebook.