As a book reviewer, I received a copy of this book for free from the publisher to facilitate this review. I received no other compensation and all opinions are 100% my own.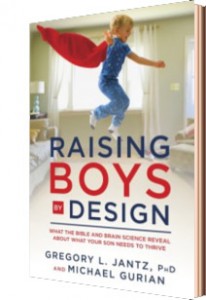 I was curious to read Raising Boys by Design
because I am the mother to three boys. Mine are all under the age of six and so I feel like I have time to learn how how to raise them well while at the same time I feel like I'm in a mad dash to learn how to do this right before I do it completely wrong and blow everything. Again, there is the ever present mixture of confidence and terror when it comes to learning how to parent.
I was also attracted to this book because it is written by two men with very nice sounding credentials. Jantz is a psychologist with a doctorate in counseling psychology. Gurian is a marriage and family counselor noted for his secular expertise in brain science. Jantz is a Christian and Gurian is a Jew. Both had been asked separately to write a book on parenting which combined both Biblical teaching and instruction as well as scientific information about how the male brain is designed and typically operates. Instead of each writing a book of their own, they decided to pull their resources and write such a book together.
As mentioned, Raising Boys by Design
: What the Bible and Brain Science Reveal About What Your Son Needs to Thrive combines both Bible teaching and scientific fact. While there is a significant portion of the population that believes that science and the Bible are at odds with one another, Jantz and Gurian would not agree when it comes to the fact that males and females are inherently and genetically different and therefore it stands to reason that they develop, learn, grow and emote differently. This book is meant to clarify those differences between the sexes and give a clue into how parents can best guide their young boys into manhood in a healthy and successful manner.
Raising Boys by Design
is divided into two sections. The first addresses how boys develop and what a boy learns from his mother and also his father. The second section is full of information and practical tips on how to build character and self-discipline in your son. Jantz and Gurian discuss how to address the issue of sexuality, how to help your son do his best in school, the impact of technology and the need to study your son and know him so that you can be the best parent that he could possibly have! It's our job as parents to learn our kids, instruct, guide and love them and all this book attempts to do is help you succeed at your job!
As I said, this book is written by a Christian and a Jew and that makes the book interesting to me from a theological perspective. Although their belief systems are similar, they are also quite different in a remarkably stark and distinct way. However, the two men do not seem to let their theological differences get in the way of their advice and personal studies. These men are in whole hearted agreement that we need to understand that boys are designed and created differently from girls. They agree that we as a society need to know the differences between the sexes – not so that women's rights will be repressed or threatened – but so that men can succeed as men! We can insert a long discussion on this point, no doubt, but the bottom line is that I found this book to be remarkably helpful and useful as I go about the task of learning my sons and raising them up to be the men which God has created and designed for them to be. Being their parent is intimidating at times, yes, but also tremendously exciting. I'm grateful for all the help and advice which this book has to offer and I have no hesitations in recommending it to you.
Many thanks to WaterBrook Multnomah who sent a copy of this book my direction in exchange for my honest thoughts.
Carrie blogs about life and her worldview regularly over at Reading to Know.