Last year Elizabeth reviewed The Stockholm Octavo. In honor of the paperback release of The Stockholm Octavo this upcoming week, the publisher has offered up a giveaway copy to one of you.
Here are some of Elizabeth's thoughts: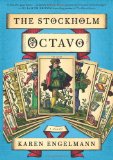 The Stockholm Octavo
has it all–intrigue, king-making, gambling, dirty alleyways and taverns, mysterious card-readings, flirtations, atmosphere, revolutions on the horizons, and more. Emil Larsson is a young customs official, or sekretaire, who strides about the docks and streets in his distinctive red cloak, which is a badge of his office. Overall, he's content with his life–benefiting financially from his position, gambling and drinking as he pleases, until his boss decides he must marry or lose his job, so he begins an active search for an attractive young woman. In the meantime he spends his evenings playing cards and gambling at an establishment run by Mrs. Sophia Sparrow, an older Frenchwoman. One evening, she has a vision for him of a golden path leading to love and connection. Intrigued and excited, he accepts her invitation to lay the cards for him to reveal his "octavo"–8 characters that will be played by 8 different people in his life: the seeker (Emil himself), the Companion, the Prisoner, the Teacher, the Courier, the Trickster, the Magpie, the Prize and the Key.
Click over to read her full review of The Stockholm Octavo. But be sure to leave a comment here if you'd like to win a copy (U.S. only).The giveaway is closed.
Check out our current giveaways. Subscribe to our feed. Follow us @5M4B on Twitter or on Facebook.