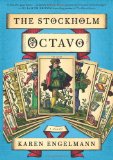 The Stockholm Octavo
has it all–intrigue, king-making, gambling, dirty alleyways and taverns, mysterious card-readings, flirtations, atmosphere, revolutions on the horizons, and more. Emil Larsson is a young customs official, or sekretaire, who strides about the docks and streets in his distinctive red cloak, which is a badge of his office. Overall, he's content with his life–benefiting financially from his position, gambling and drinking as he pleases, until his boss decides he must marry or lose his job, so he begins an active search for an attractive young woman. In the meantime he spends his evenings playing cards and gambling at an establishment run by Mrs. Sophia Sparrow, an older Frenchwoman. One evening, she has a vision for him of a golden path leading to love and connection. Intrigued and excited, he accepts her invitation to lay the cards for him to reveal his "octavo"–8 characters that will be played by 8 different people in his life: the seeker (Emil himself), the Companion, the Prisoner, the Teacher, the Courier, the Trickster, the Magpie, the Prize and the Key.
Soon, however, Emil and Mrs. Sparrow realize more is at stake than simply Emil's future marriage. Set in Stockholm (referred to throughout as simply the Town) in the late 1700s, a time of revolution in France when the French royal family and nobility are living lives of increasing fragility and Sweden's government is being rocked to the core as well, the Octavo draws in such characters as a scheming noblewoman who would overthrow the throne, an artist who makes fans of great delicacy and skill, and a young woman who is a skilled apothecary but who is hiding the secret of her origins and fleeing an unwanted marriage. As Mrs. Sparrow lays the cards for herself, she finds that the two Octavos overlap and reveal people on both sides of the plot against the king.
The female characters in The Stockholm Octavo
are the ones who are really developed and who really shine. There's the Uzanne, ruthless, scheming for power, willing to do whatever it takes to carry out her plans. There's Johanna Gray, fleeing an undesirable beginning, taken in by the Uzanne as a protege but not comfortable in her new role. There's the wife of the fan-maker, trying to adapt herself to her new city, in love with her husband and distrustful of his brother. There's Anna-Maria Plomgren, beautiful and desirable but older than she seems, rocketing up through the ranks of society, who's not talking about her first marriage to a soldier who beat her and killed their baby in a drunken rage. And of course there's Sophia Sparrow, fortune-teller to the king, prone to visions, hiding trunkfuls of money.
This is the kind of historical fiction I enjoy–less a classic historical fiction and more a recreation of a historical period, peopled with fictional characters, with a bit of mystery and magic thrown in. Although the ending is clear from history and from the timeline at the beginning of the novel, that doesn't take away from the suspense and sweep of the book. It's the kind of book you can lose yourself in, and would be perfect for a long winter weekend in front of a fire. (Assuming there exist people who could so spend a weekend. I believe they exist. I want to be one of them) The Stockholm Octavo
is gripping and well-written, with a memorable cast of characters and a sense of the greatness and inevitability of history.
Elizabeth really knows nothing about Swedish history, which just goes to show you that they aren't teaching the right things in American schools. (After all, it's not like she's retained or needed to retain anything from Algebra). Learn more at her blog Planet Nomad.