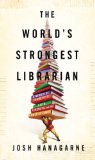 Josh Hanagarne had a happy childhood, crammed with books and a world of imagination. That began to change at the age of 6, when he was a tree in a school Thanksgiving play, and discovered he couldn't stop making popping noises with his mouth. He was officially diagnosed with Tourette's syndrome when he was in high school. By the time he was 20, he was 6'7″ tall, and while he was on a mission with the Mormon church, his symptoms became uncontrollable, where he was punching himself in the face and shouting at inopportune times. He was desperate to figure out a way to manage it, and doctors were basically little or no help.
The World's Strongest Librarian
is a memoir of Hanagarne's life up till now, and it offers a fascinating glimpse into a life lived under the shadow of a mysterious syndrome, as well as his journey to find ways to manage the condition he dubs "Misty" short for "Miss T," a parasite he's in a relationship with. Hanagarne searches for ways to control his Tourette's. He tries everything, from having his vocal cords paralyzed, to taking weird supplements, to various forms of medication. He has his best success with weight-lifting, but ultimately finds that even that has limits. Throughout it all, he finds great support from his family and later his wife, awesome people who love and accept him as he is, while he admits his struggles with his Mormon faith.
Hanagarne has a self-deprecating sense of humour, and an easy-to-read writing style that pulls the reader in to his struggles. Each chapter opens with stories of his life as a librarian at the Salt Lake City downtown library, and in some ways those were my favorite parts–amusing stories offering glimpses of the strange humans that populate public spaces.
The World's Strongest Librarian: A Memoir of Tourette's, Faith, Strength, and the Power of Family
offers an intriguing glimpse into the world of Tourette's, and readers will come away feeling compassion and admiration for those who struggle to control the uncontrollable impulses of it.