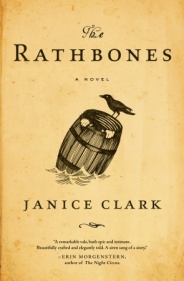 I will admit that I had a hard time getting into The Rathbones by Janice Clark. It is touted as "a gothic, literary adventure set in New England (that) chronicles one hundred years of a once prosperous and now crumbling whaling family, told by its last surviving member." The book was not at all what I'd expected, and the beginning – to me – was especially confusing.
The book is told by Mercy who lives in Rathbone house, on the Atlantic coast, with her mother who disdains her, her two uncles she knows only as Starboard and Larboard, and her cousin Mordecai who is also her tutor. Her father has been away at sea for more than nine years, and her mother still haunts the widow walk of the house, waiting for him, or carving whalebone.
When 15 year old Mercy – who alternately seems much older and much younger than her age throughout the book – hears singing, her two pet crows help her rise from her bed where she discovers her mother coupling with a man on the widow walk. She is discovered hiding in a trunk by him and manages to wriggle away, running through the oddly built house and hiding in the attic where Mordecai is forced to live. She and Mordecai flee early the next morning both to get away from the man in the blue coat who is still hunting for her and to find her brother, who she believes was singing the song that first awoke her.
Mercy's brother has been missing for as long as she can remember, with her mother telling her only that "he was even smaller than you, so we threw him back" and Mordecai sharing no more information. Mercy is convinced that he is whaling with her father and wishes to find them both. As they set out rowing in a small skiff, Mercy and Mordecai have adventure after adventure.
In most of their interactions with others, they are able to unwind a bit of the family's twisted history. The Rathbone family was famous for their undisputed supremacy in whaling and unique family life, so many people fill in the holes as Mercy slowly learns all that her mother refused to share with her. The stories help her fill in a chart in a journal Mordecai found long ago that contains her family tree with little more to start it than her great-grandfather Moses and a list of wives and sons, most with no names and incomplete.
I found it disturbing how Moses – the patriarch of the Rathbone clan – created his family to crew his whaling vessels. He simply took wives to create children, then banished them once they had worn out and replaced them with new wives to bear more children, who as they grew older helped sire more children from those wives as they were passed from bed to bed. Nothing graphic is ever shared in the book, but the concept was unpleasant enough for me.
Few of the characters had redeeming qualities, outside Mercy and Mordecai who were unique though incredibly sheltered and innocent – not surprising given the lives they'd led. Their forebearers are obsessed with the sea and whaling and are single-minded in their pursuits. They lack any sense of humanity to me, which detracts a bit from the book. Captain Avery, who helps Mercy and Mordecai sail to their destination after picking them up once they were marooned on Mouse Island is different. Though he has his failings, he takes a fatherly interest in Mercy and is one who fills in many of the largest gaps.
This is definitely not a book for everyone, and it is far different from what I expected when I first read the description. Though I had a hard time starting the book, once I got into it, I eagerly read the next chapter wanting to know what other discoveries and secrets Mercy would uncover as she moved along.
Written by Michelle who couldn't imagine being married to a seaman who went out for months or years at a time and often didn't come back. See how she models her life instead via her blog Honest & Truly! or follow along with her on Twitter where she is also @HonestAndTruly.