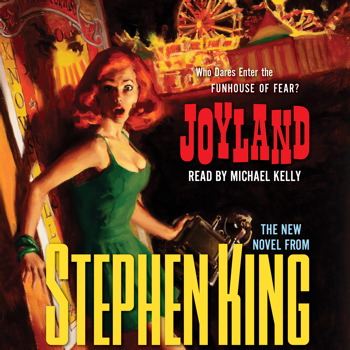 It's 1973 and Devin Jones, working his way through college in the dining hall, comes across an ad for a summer job at an amusement park in North Carolina. Since his girlfriend, Wendy, will be spending the summer in Boston, he decides to get out of Dodge. While touring Joyland on the interview, he meets the unusual cast of characters who keep the joint running and decides a summer at the beach doesn't sound like such a bad thing. One of those characters is Rozzie Gold, aka Madame Fortuna, the fortune teller who tells him his future involves a little girl with a doll and a boy, one of whom has "the sight," and that Wendy is his past, not his future.
Devin quickly befriends others on his team at the park, learns to run the rides and talk the carny talk, and discovers he excels at "wearing the fur," park lingo for wearing the Howie the Happy Hound costume — usually in sweltering heat — and entertaining the kiddies. When Madame Fortuna's prediction about Wendy being in his past comes true, Devin tries to forget about her. After learning that one of the rides is supposedly haunted by the ghost of a girl who was brutally killed 4 years earlier, he convinces his two best friends, Tom and Erin, to go on the ride with him, determined to see the ghost himself.
The second half of the book focuses on the park in the fall, after it has closed to the public. Devin decides to take a year off from school and work at Joyland doing maintenance. He befriends Michael, a 10 year old boy in a wheelchair, and develops a crush on Michael's mother. Devin never forgets the main reason he has stayed at the park – the ghost of the girl who died – and soon digs into her death and similar deaths of other young women.
If you've read this far, even after seeing Stephen King's name on the book cover, you'll know that other than the ghost aspect, Joyland is not his typical fare. The book was written for the Hard Case Crime print, so does have some aspect of a mystery with the murder of the girl on the ride, but more than anything, it's a coming of age story. King is at his finest here – the man has a way with words and he wields them expertly in Joyland. One of my complaints about his books is they tend to be overly wordy, but at just shy of 300 pages, the prose is concise, with few of his trademark tangents.
The story is told by Devin 40 years after the events that unfold, and as narrator he has the hindsight that comes only with experience. His recounting of getting his heart broken and other recollections of the summer and fall of his 21st year are amusing and honest. He's nostalgic for his days at Joyland in a way that most of us view our youths – with fond memories, but not one he'd want to repeat.
I greatly enjoyed Joyland and recommend it to those who enjoy mysteries, don't mind ghosts and revel in some good suspense. But mostly it's just a good story.
Notes on the audiobook: I have to admit, having finished this a few weeks ago and listened to two other audio books since, I don't remember much about the narrator. His accent for the different Joyland employees was interchangeable, but other than that it was an enjoyable listen but not one that has really stuck with me. You can hear an excerpt on the Simon & Schuster audio page.