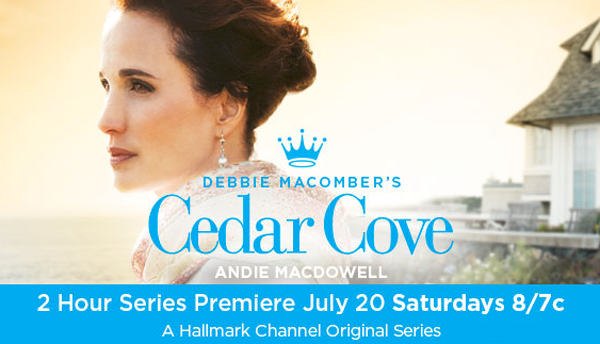 Are you a Debbie Macomber fan? Though I haven't read any of her books, I certainly was familiar with her name. She's quite a prolific writer! I haven't read any of books, but Carrie said she enjoyed all of the books in the Christmas series, finding them nice, light, clean reads. And a while ago Trish even reviewed one of those books right here: 1225 Christmas Tree Lane.
I'm always interested in finding entertaining and family-friendly television shows, so when I heard that the Hallmark Channel was starting a series called Cedar Cove based on her novels, I was happy to check it out.
Click over to my post at 5 Minutes for Mom to find out my thoughts about Cedar Cove on the Hallmark Channel. You can also enter to win a $75 prize pack, including Cedar Cove merchandise, Debbie Macomber's 16 Lighthouse Road (Cedar Cove) book, and a $50 amazon.com gift card so you can buy the whole Cedar Cove series.
Before you leave– I'd like to hear from you Debbie Macomber fans — what do you like about her novels? Or what is your favorite one? (this will count as one of your entries, so go ahead and leave a comment here and make sure to mark that option on the rafflecopter entry at 5 Minutes for Mom, which you have to use to start your entry process)
Check out our current giveaways. Subscribe to our feed. Follow us @5M4B on Twitter or on Facebook.