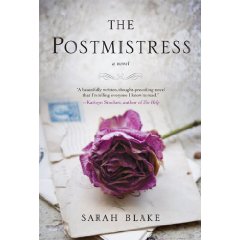 I'm not a huge historical fiction fan, but there are two settings that are sure to interest me: the depression and World War II. The people of those time periods have such courage, determination and mettle. They survived difficult times with dignity (or at least that is how they are romanticized in literature).
The Postmistress is set on the coast of New Hampshire and in the middle of bomb-targeted London during World War II.
At the center of the story, and the town, is the old-maid postmistress Iris. The post office and the daily intake and output of mail create the hub of this small town. When Iris holds on to a letter that's been left in her care, the bedrock of order that she has created for herself is shaken. How will this affect Iris? How will it affect the doctor's wife, and even the female reporter far away in London?
I think that there's a lot going on in this novel. I might be reading more into it, but for example, I thought that there was a little more sexual activity (though not explicitly described) than I would have expected for the era. But when I thought about it, it seemed as if the author might be trying to convey that these people were trying to connect with each other in some way as the war was tearing them apart.
Like I said, I might be over-analyzing it, but it's the kind of questions that this novel brings to mind.
The book is made up of an interesting cast of characters. While I didn't really connect with any of them, many of them intrigued me. Just like real life, we only see glimpses of the circumstances that made them who they are and drive their decisions.
I didn't race through this novel, but I did enjoy it, and it did make me think. The characters will stick with me for a while, and for all those reasons on top of a fantastically unique setting, The Postmistress is a book that I can recommend.
Jennifer Donovan's grandparents lived through the reality of World War II. She grew up hearing their stories, and tries to share that proud heritage at her blog Snapshot.