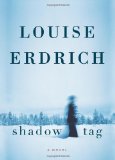 Books that center around the dissolution of a marriage can hardly be called "feel-good" reading material, but it's still impossible to deny quality workmanship in composition, and even though some characters can be easy to disdain, it's compelling when their story still draws the reader in. After just finishing Louise Erdrich's new novel Shadow Tag, these are the dueling thoughts in my mind.
The premise revolves around Irene and Gil, a married couple with three children ranging from lower elementary to high school age. Their relationship appears to never have been one of conventional love and trust, but always tinged with an intensity and attraction that could hurt as much as it could excite. When Irene discovers that Gil is reading her diaries, she decides to counter that act of betrayal with one of her own, by transferring her authentic journaling to a new notebook, which she keeps in a personal safety deposit box at the bank, but continuing to write in her former diary, purposely messing with Gil by creating elaborate and hurtful entries. There's a maliciousness in her actions, definitely, yet it's mirrored in Gil's own behaviors toward her and the children. Control, deceit, possession and manipulation all serve as regular ingredients in their relationship, yet they just can't seem to strike new paths apart from each other.
I couldn't get myself to understand where Irene and Gil were coming from, because their troubles went far beyond the basic ups and downs of long relationships. Their hatred and their love for each other were mirror images- in both their intensity and depths. If they were the only two people affected by their actions, their inactions and their choices, I might be left with less emotion and more interest in studying how they got to their ending points, but because there were three children in the picture, all I'm left with is a dull loathing of their inabilities to do right by the people who needed them the most, and a wish that they had found the compassion necessary to better treat each other, themselves and their children.
After all that, it's odd to say that I really did enjoy reading this novel, but I was impressed with the quality of writing, the insistent tone, and the way that the characters came alive through the author's unique-feeling prose. One particular theme intrigued me, something that Gil and Irene were completely at odds with in their perspectives. Gil wholeheartedly believes, and fervently wishes, that there exists such a thing as "the ultimate moment." The moment in which one decision makes or breaks a person or a relationship. The moment in which history is determined and fates decided. Irene, however, passionately believes that nothing is defined by one single moment, but by the culmination of innumerable tiny moments, "many causes to one effect." This seemingly menial difference of opinion is actually very much at the center of their eventual stories, and is something that I'm still pondering after completing the novel.
While Shadow Tag won't be wearing the label of "feel-good novel of the year," it is clearly a compelling and distinctive work, and a genuine literary accomplishment.
When she's not reading or trying to act like a good mom and wife, Dawn can be found blogging away at my thoughts exactly.