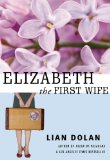 Elizabeth Lancaster is perfectly content with her life. She's a professor at a community college, where she teaches Shakespeare, and she has an idea for a book on modern relationships drawn  from Shakespeare. Her love life is pretty much non-existent, and she lives in the shadow of an extraordinarily high achieving family, which includes a Nobel prize winner, a brother-in-law who's considering a run for governor of California, and a sister who's an oncologist. Her mother tries to spur her on to the heights they've achieved, but she's happy to live in the historic house owned by her grandmother and garden in her spare time.
Her plans go topsy-turvy when her ex-husband, since become a Hollywood A-list actor, FX Faley, shows up and interrupts a class she's teaching on The Taming of the Shrew. He makes her an offer she can't refuse–spend a summer at the Oregon Shakespeare Festival and help him not make a fool of himself in a live production of A Midsummer Night's Dream. She gets an agent interested in her book, and agrees to let her brother-in-law's (awfully cute) campaign manager stay in her house and keep her garden watered and weeded. Then she, with her 18-year-old step-niece in tow, set off for a summer in Ashland. As one would expect from a book that plays off Shakespeare, all sorts of mayhem ensues.
Elizabeth the First Wife
is a fun, fast-paced read. It's witty, whip-smart, and entertaining. Not only is the story great, filled with relatable characters, but author Lian Dolan adds in supposed excerpts from Elizabeth's book, such as "power couples" and who they remind you of (I snorted out loud when she compared the Macbeths to the Reagans, the Clintons and the Jolie-Pitts),  or comparing the cast of Friends to As You Like It or Hamlet to the "Twilight" series. This takes an enjoyable book into the laugh-out-loud funny category.
Elizabeth the First Wife
is the perfect summer read, or really, good for any time of the year that you want to relax and enjoy yourself with a light read that manages to be intelligent too. Highly recommended.