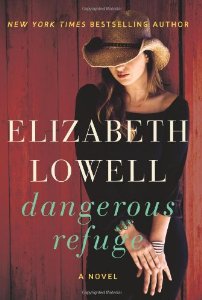 When Shaye Townsend discovers the body of Lorne Davis at his ranch, she's more than just saddened. She's crushed that she'll never get to make up for her boss Kimberli's mistake with a contract to give the ranch to the Ranch Conservancy where she works. The last she'd heard from Lorne Davis, prior to the opening of Dangerous Refuge by Elizabeth Lowell, was him cursing her duplicity.
Tanner Davis is Lorne's nephew and has come to Refuge, Nevada to execute his uncle's estate. They'd been estranged for decades, since his father left the ranch when Tanner wasn't out of high school. Tanner expects little but a quick finalization of his ranch and effects and is surprised when he learns his uncle was thinking of giving his ranch to the Conservancy. But just before his fatal heart attack, Lorne was working with his lawyer to change back to his original provision of Tanner being the sole heir.
No longer a quick in and out for Tanner, he looks around the ranch and finds that things aren't as they seem with Lorne wearing his city clothes and no hat when he had his heart attack, something no self-respecting rancher would do. When he discovers a cache of 1932 Gaudens gold coins also missing, Tanner's LA cop instincts come to the fore.
Shaye is appointed by Kimberli to butter up Lorne's nephew to get him to give the Ranch Conservancy the Lorne's ranch without a fight, and she is surprised to find that the nephew is the one who was so rude to her when she went to check on Lorne's ranch the day after he died.
She is also suspicious of Lorne's death and insists on working with Tanner to uncover what actually happened. And of course, sparks fly between the LA cop and the down home country girl. The story is a fun mystery with the romance angle thrown in as a bit of a surprise to me, though nothing graphic.
Throughout the book, there are twists and turns that the reader doesn't see coming but yet aren't so far-fetched that the cause eye-rolling. The characters are entertaining from the thugs in the casino to the politicians brown-nosing with the Ranch Conservancy to the sheriff and deputies in Refuge.
And once Tanner and Shaye uncover that there was a murder and begin to follow the leads they generate working together, they become the hunted.
Michelle wishes she lived on a ranch where she owned ranch and town boots. Instead she has the usual array of suburban footwear. See where she's taking those shoes via her adventures on her blog Honest & Truly! and follow along with her on Twitter where she is also @HonestAndTruly.