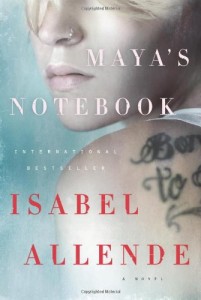 Isabel Allende is one of those authors who I've always wanted to read. When I was offered a review copy of Maya's Notebook, I accepted because of the author's name, but also because I'm sort of a sucker for a story of rebellion, especially if it's accompanied with redemption, which I sort of assumed would happen. Why do people derail from a comfortable life? What stops the rebellion? What lasting effects does it have on the rest of one's life? on their family?
Nineteen-year-old Maya is sent from her grandparents' house in Berkeley to live with a family friend on a remote Chilean island. The reader does not know exactly why, only that it has to do with getting away from bad influences, and we soon come to learn, fleeing the law. Her Nini sends her off with a notebook and encourages her to express herself. It's through her first-person notebook entries that we learn her thoughts of the reticent but welcome Manuel, with whom she will stay in a small two-room house with no doors. We learn about Chilote, the customs that have endured through the years as well as the way modern life has infiltrated the island.
As she experiences a very different present life, we slowly learn about her past. We learn that her mother abandoned her at birth and her father all-but abandoned her by pursuing the life of an international pilot. She's left with her Nini and her beloved second husband Popo. She's happy. But there are holes left as a result of being motherless and basically fatherless. When Popo dies in her late teens, she begins a downward spiral that takes her truly the depths and finds her cheating death time and again.
When she hits absolute rock bottom and truly fears for her life, her Nini is there to help her the best way she thinks she can.
This was not an easy book to read. Though it's written in first-person, which generally flows well, it does have a literary and contemplative style, so I had to take my time. In addition, the subject content of Maya's rebellion is hard stuff to read, but it is not sensationalized in any way. When I read about this kind of stuff, I see it as a character study. Unfortunately there are people who go through these trials, or whose children do, and it breeds some empathy and understanding in me that I wouldn't otherwise have.
For the style and the rich settings (not only Chilote, but Berkeley and Las Vegas as well) in addition to the reasons listed above, I really enjoyed Maya's Notebook. It was my first Isabel Allende, but probably won't be my last. Find out more by checking out Isabel Allende's website and Facebook page. You can watch her talking
Let me know, are you a fan? What's your favorite Isabel Allende novel?
Thanks to TLC Book Tours for the review copy of this book. For more thoughts reviews of this novel, click through to the page and read what others have to say.
Watch this short video of Isabel Allende featuring her take on this novel, what it's really about and why she wrote it, and how the characters resemble her: