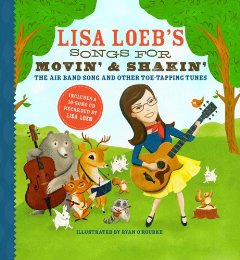 Do you and your kids like to dance and sing together? Well, get ready to boogie down with a new book and CD made for music-loving kids, Lisa Loeb's Songs for Movin' and Shakin'.
Yes, you remember Lisa Loeb, the cool chick with the distinctive glasses whose song "Stay (I Missed You)" hit number one in the early 90s and was on the radio almost nonstop. Loeb is quite the multi-talented performer, and her energy and voice are perfectly suited for upbeat children's songs that adults will be happy to play for their children.
My kids and I popped this CD in the other day while we were playing a board game together. The board game was quickly abandoned in favor of dancing, because I think it's physically impossible for any child to hear this music and not want to move, just as the title indicates! The CD features ten songs, five familiar kids' songs like "Peanut Butter and Jelly" and "Head, Shoulders, Knees, and Toes," along with five original songs written by Lisa Loeb. Of these originals, one song stood out immediately as a crowd favorite in my home. "Everybody Wake Up" is a lively chant-like song that made my kids giggle as they tried to sing along right away. The book suggests some movements to accompany the song, including stomps and claps on certain words and other motions to match the lyrics. I think this will be a fun one to try out some school morning soon!
Really, there's nothing I don't like about Lisa Loeb's Songs for Movin' and Shakin'. The songs are lively and catchy, and the book is filled with adorable illustrations by Ryon O'Rourke, on pages filled with fun designs and doodles all around. My six year old daughter loves that she can read the lyrics while listening to the CD, a quicker way for her to learn the words. My five year old pre-reader son loves looking over her shoulder at the pictures, too. I know this CD will be played frequently, and I'll be singing right along with the kids.
Are you ready to dance and sing? We have a copy of Lisa Loeb's Songs for Movin' and Shakin' up for giveaway. Leave a comment here to be entered, US addresses only, please. The giveaway is closed.
Check out our current giveaways. Subscribe to our feed. Follow us @5M4B on Twitter or on Facebook.