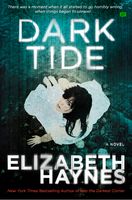 Genevieve has led an interesting life to date in Dark Tide by Elizabeth Haynes. She's left her day job in London in high pressure sales to buy a barge in Kent where she can live aboard the boat full time and restore it for a year before deciding what's next in her life. Five months into the restoration, she hasn't come near to completing it, but she hosts a housewarming party aboard her boat anyway.
Her friends from London have made the trek, and the mix with her friends she's made at the marina amongst the other people who live aboard their boats is interesting. Their views don't always mesh, and Genevieve's friends aren't as understanding of her new lifestyle as she might like. Genevieve isn't too surprised by this, nor is she sad when they leave the party a little early. Her only disappointment is that her closest friend Caddy hasn't made it to the party.
Early the next morning, Genevieve is awakened by something outside her boat, something knocking into it. When she goes to investigate, she discovers that there is a body floating in the water – the body of her friend Caddy, in fact. Thus opens an investigation into the murder – though Genevieve doesn't admit to knowing the identity of the murdered woman – and the more complete story of Genevieve's past.
The remainder of the book cleverly weaves back and forth between the present time – the murder investigation and Genevieve's attempt to figure out what's happening while keeping herself safe – and exploring her past and how she came to be living on a boat taking a year off from work.
It turns out the Caddy is a friend of Genevieve's from when she was an exotic dancer part time, on the weekends outside her sales day job. She danced at an exclusive club where she was able to earn enough to put away the savings for her boat. The club is as dirty as you would imagine it being, though Genevieve and Caddy both do their best to stay out of it and keep their noses clean.
It doesn't work for either of them, which is how Caddy ended up murdered, and now someone is after Genevieve, as well. Genevieve never hears from her potential boyfriend Dylan who gave her a "package" for safekeeping on the boat in exchange for the last 50,000 pounds she needed to purchase her boat, and she turns to Jim Carling instead, a detective investigating the murder of Caddy.
The characters in the book are unique and filled with personality. I thoroughly enjoyed them all, even the ones I didn't particularly like, simply because they were so well crafted. It was easy to slip into the rhythm of the book and become invested in Genevieve somehow having a happy ending.
The only disappointment I had with the book was, in fact, the ending. There were a few points where I thought the book was gearing up to end, only to continue on with a bit more of the story, and it worked. But the actual end came with no warning, almost feeling like it was in the middle of a chapter. I closed the last page feeling frustrated and somewhat confused by the ending, wishing instead that the book had ended a chapter earlier (which still would have been a somewhat awkward ending) or had filled out and finished the last chapter with another few pages of closure.
But I'd read it again anyway simply for the way the rest of the book drew me in and held me there for almost 400 pages.
Michelle has never led a life anything like Genevieve's, much as she wishes she had the strength and flexibility to climb to the top of a pole and swing down it the way Genevieve does. See what Michelle is capable of doing as she shares on her blog Honest & Truly! or follow along with her on Twitter where she is also @HonestAndTruly.