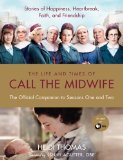 I read a lot of books, and hands-down one of the top 3 I read last year was a memoir of a woman who worked as a midwife in one of London's slums during the 1950s. It was part two of the three she wrote, and was called Shadows of the Workhouse
. It was stunning–true stories but reading like fiction, written with balance and compassion. It made me actually cry (not just sniffle), it made me angry, it made me resigned and philosophical, it made me laugh out loud in parts. Seriously, an incredible book and one you should go read right now if you haven't yet read it.
I knew that it was Jennifer Worth's second memoir. Her first is titled Call the Midwife
. Since my own British mother worked as a midwife, in London like Worth and also in Swansea, Wales, which is where she was from, I felt a special affinity with the subject matter. But the stories of real-life joy and pain were so gripping that I had no problem recommending the books to pretty much anyone that would listen.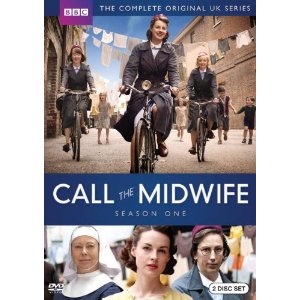 Now BBC has come out with a film series based off the two books plus her third, and PBS aired them last fall. I missed them at the time, but Season 2 will air beginning in March. In addition,  I was sent a copy of The Life and Times of Call the Midwife
, a companion book to the first two series of the show. It's beautifully put together, providing a lot of information about the behind-the-scenes decisions, the real-life counterparts to onscreen personas, gorgeous photographs, and more. It explains how certain decisions were made–everything from the colour palette to the use of era-appropriate food items and more. Production designer Eve Stewart points out, "You have to remember this is a story; it is a drama first and foremost, not a documentary." (p.169) It is precisely that finely-honed balance–between truthful reporting and fleshed-out storytelling–that makes this series so unforgettable. I'm a bit of snob when it comes to movies made of books I've loved, but I'm fully on board with this one.
I have to admit I've only seen the first episode, but I'm totally hooked. Screen writer Heidi Thomas has done a fantastic job of bringing Worth's memoirs to life on screen. However, credit really goes to Worth herself for recording her experiences so well.
The characters are unforgettable. The Docklands of the 1950s were an area of incredible squalor, with people living in extreme poverty and its attendant filth. Midwife Jennifer Lee (the author's character) is appalled on arrival there, and not prepared for the fact that she'll be working with a group of Anglican nuns. There's a scene in Episode 1 where Jenny is shocked, on examining a pregnant woman, to discover signs of advanced venereal disease. "I didn't know people lived like this," she tells Sister Julienne, who replies, simply, "But they do. And it's why we're here." (also recorded on p. 111) Author Jennifer Worth brings characters to life, clear-eyed and without sentimentality, but also without judgement.
There's Conchita Warren, a Spanish woman pregnant with her 25th child. She speaks only Spanish and her husband speaks only English, but the love between them is palpable. There's Sister Monica Joan, elderly and now slightly senile, who searches out the cake hidden from her and feeds it all to Jenny on her arrival at the  convent, which gets her into trouble with the other nuns and makes Jenny feel very awkward in a scene that has viewers chuckling.
The companion book is really well done. In the series, the order of nuns is called "The Order of St. Raymond Nonnatus" but we learn of their real-life counterparts, the Order of St. John the Divine, and visit those nuns still alive of that Order. We look at the foods, colour palettes, health issues and medical care of the time, fashion styles, and more. It's not only a behind-the-scenes look at the show's production, it's a glimpse into the world of the London slums of the 1950s.
I really can't recommend this series highly enough, both the books and the films.
One of you (Continental U.S. only) can win the book The Life and Times of Call the Midwife as well as Shadows of the Workhouse. Just leave a comment and we'll announce the winner on February 20. The giveaway is CLOSED.
We have some fantastic giveaways going on right now! Please subscribe to our feed so you don't miss a thing, and check out the current giveaways now!