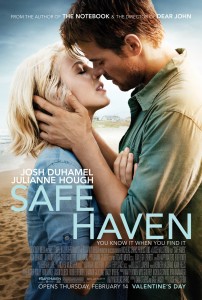 Nicholas Sparks has had phenomenal success with his books and book-to-screen adaptations. I read Safe Haven a year ago, my first Nicholas Sparks in a while. You can check out my review on the giveaway we ran in the fall as a sneak preview.
I'm looking forward to seeing the movie, which seems like a great mix of romance, action, and intrigue. I was quite surprised at the level of suspense in the novel. If you have written off Nicholas Sparks as too saccharine sweet, give a second look to this one. On the other hand, there's plenty of heart and courage in this story, which are hallmarks of his works, so I truly feel there's something for everyone.
Synopsis:
An affirming and suspenseful story about a young woman's struggle to love again, Safe Haven is based on the novel from Nicholas Sparks, the best-selling author behind the hit films The Notebook and Dear John. When a mysterious young woman arrives in a small North Carolina town, her reluctance to join the tight knit community raises questions about her past. Slowly, she begins putting down roots, and gains the courage to start a relationship with Alex, a widowed store owner with two young children. But dark secrets intrude on her new life with such terror that she is forced to rediscover the meaning of sacrifice and rely on the power of love in this deeply moving romantic thriller.
I'm truly excited to be able to pass along a wonderful giveaway to one of you, sponsored by Relativity Media, in exchange for helping spread the word about the #SafeHaven release on February 14.
One of you (U.S. residents only) will win a Kindle Paperwhite and a $25 amazon gift card to stock it!
**I've been invited to an advanced screening, so look for my review on opening day! In the meantime, follow #SafeHaven on twitter and facebook: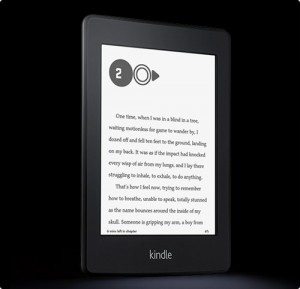 Facebook Page: http://www.facebook.com/safehavenmovie

You can enter this fantastic giveaway worth almost $150 by leaving a comment here. You can also get an extra entry by spreading the word on Facebook and/or twitter. If you do either of these, leave a comment with a link to the update as an additional comment. The winner will be announced on February 20.
The giveaway is CLOSED.

Check out our current giveaways. Subscribe to our feed. Follow us @5M4B on Twitter or on Facebook.