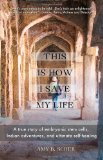 Amy Beth Scher was a normally active young adult until she came down with a mysterious condition that left her looking normal on the outside but dealing with intense pain, no longer able to walk, with neurological issues, brain lesions, and more. She was eventually diagnosed with chronic Lyme disease but it had never manifested with a rash or bite mark. She tried treatment after treatment, taking drawerfuls of pills every day in addition to many intravenous and intramuscular shots and intense antibiotic regimes, and nothing worked. She heard of a treatment with embryonic stem cells in Delhi, India, and decided to look into it.
A lot of This Is How I Save My Life: A True Story of Embryonic Stem Cells, Indian Adventures, and Ultimate Self-Healing
is taken from blog posts she wrote at the time, so the reader who is new to her story doesn't get a lot of background about Lyme, stem cell treatments, etc. The main part of the book begins with Amy's journey to India, where she is dissed by the airport wheelchair operators in two separate US airports because she doesn't look like she needs to be wheeled to her gate. She gets to India and adjusts to the sights, sounds and colours of the sub-continent, eating her way through mounds of curry and chapatis (I know! made me hungry too) while beginning to receive injections of stem cells, which produce immediate and, to my mind, impressive results. By the time she leaves 6 weeks later, she has no problem walking and even sprinting to her gate, and the signs of returning and burgeoning health are obvious, especially when her brain lesions disappear and her tests for Lyme come back negative.
However, this is not ultimately a book about embryonic stem cell research, but a book about self-healing. Amy comes to realize that what's really holding her back from full health is a habit she has of wanting to control things and not expressing her full emotions. "I now believe fully that disease serves us in some way. When we are ready to discover and release the serving, the disease has no purpose anymore," she states. (p 244) She believes the Universe is vaguely sentient and sends us messages and wants us to succeed at being all we were meant to be. Now, fully cured, she spends time making sure she is in tune with her body and all its trying to tell her, and she has become a practitioner of energy therapy, helping funnel the body's good energy to bring about emotional and physical healing, and helping others find holistic health as well.
This Is How I Save My Life
is an interesting story of what it's like to experience medical care at a top medical facility in India, where McDonald's delivers McVeggie sandwiches and there are over 600 channels on the TV, but the walls can't block out the incessant noise of the streets and honking horns. It's a story of a determined young woman and her journey towards healing.
I'm pleased to announce that you can win your very own copy of Amy's story. Best of all, in addition to the book, the winner will receive three prints ready for framing, of images that Amy took while in India. One is of handmade paper flowers sold at Dilli Haat bazaar in Delhi, India. The second is of Ganesha statues, one of the most popular deities of India, the Hindu god of wisdom or prophecy, the god who removes obstacles. The third (and my personal favorite) is part of a Rangoli, a traditional design that dates back around 5,000 years as a decorative folk art in India.
To enter, just leave a comment below. We'll announce the winner on Feb. 6th. This giveaway is closed.
The winner of Footprints in the Sand is #16 Marjorie.
Check out our current giveaways. Subscribe to our feed. Follow us @5M4B on Twitter or on Facebook.