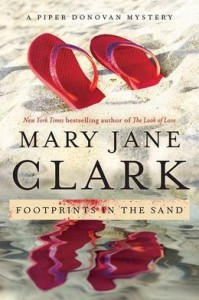 Mary Jane Clark has created another Piper Donovan mystery, the third in the series. Footprints in the Sand features Piper Donovan, a struggling actress who has traveled to Sarasota with her parents for her cousin Kathy's wedding. Unfortunately, one of the bridesmaids, Shelley Hart, is missing.
In the five days before the wedding of Dan and Kathy, the mystery deepens. Shelley's disappearance is being taken more seriously by the police, and an elderly neighbor who believes she saw a man carry a woman's body through the vegetation is run off the road and nearly killed.
The book is a perfect beach read, light and fun, and one you can put down without losing the trail of the story or confusing characters. The chapters tend to be only a few pages, although they pack plenty of action and detail into each one.
The characters may not have incredible depth, but each one stands alone as a unique person and not a shadow of another. The book abounds with potential suspects for Shelley's murder, as it is confirmed to be murder once her body is found buried on the beach outside the inn where she had worked and where the wedding is being held.
The book continues with twists and turns, and the true killer is not identified. Although you can see and hear his thoughts – and know it's a man – you don't know who the killer truly is until the end of the book. There are a surprising array of motives for the murder of the young bridesmaid who is in charge of catering for the Whispering Sands Inn, from the ex-con who sold her younger brother a fatal dose of drugs to her underling who chafes at her pushback on his vision to her aunts beau who owns the inn and seems to potentially be not quite on the up and up.
Though this is the third of the Piper Donovan mysteries, it stands well on its own. I haven't yet read either of the two previous books, and their plots weren't spoiled for me, nor did I need to read them first to make sense of this mystery. I appreciate that in a series, especially when I discover one and accidentally read a book in the middle.
This isn't a book that will stick with me and cause me to think in the future, but it isn't designed to be. It's a pleasant and quick read with fun characters who stick with their personalities. Each has flaws and details that makes them approachable and unique, including Piper with her penchant for nonstop posting of photos to Facebook.
As trite as mysteries can easily be – and you know that Piper is bound to be the next victim of the killer as she conducts her own investigation against her retired cop father's wishes – Footprints in the Sand does keep the suspense up throughout the book. It kept me turning pages until the end, with me continually changing my mind over who I thought the killer simply must be. And that's all I hope for.
We have a copy of Footprints in the Sand to give to one of you! Just leave a comment if you'd like to win. We'll announce the winner on January 23.This giveaway is closed.
Check out our current giveaways. Subscribe to our feed. Follow us @5M4B on Twitter or on Facebook.
In the interest of full disclosure, I receive a copy of this book for review purposes. I received no other compensation, and all opinions remain my own.
Written by 5 Minutes for Books contributor Michelle who is grateful that the mystery and danger in her life is primarily contained to the books she reads. See what she's doing instead of solving mysteries on a gorgeous beach as she shares them on her blog Honest & Truly, and follow her on Twitter where she is also @HonestAndTruly.