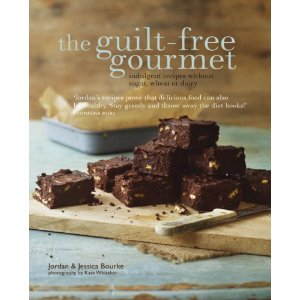 I love food. While I'm not a huge chocolate cake fan or into cheesecake, I adore cooking and eating, the smells and the textures and flavors. I would eat them all day long if I could, but I know that isn't possible – but this is part of the reason I love to cook. I have the visceral satisfaction of cooking that means I can eat less. Plus I feel guilty because my daughter has a dairy allergy, so she can't eat many of the foods I otherwise crave.
I'm feeling less guilty after discovering The Guilt-Free Gourmet: Indulgent Recipes without Sugar, Wheat, or Dairy by Jordan and Jessica Bourke. This cookbook is perfect not just for cooking for my friends who have various allergies but also for health reasons. The heading of indulgent recipes without sugar, wheat, or dairy almost makes it sound as though this is a dessert cookbook, but it is so much more than that.
The Guilt-Free Gourmet offers recipes for everything from brunch to sides to comfort foods to desserts. This cookbook doesn't include much of the introduction to the ingredients as many others I've seen, so it isn't ideal for a novice to some of the more unusual ingredients. For example, it calls for lacuma without explaining anywhere what it is (a powder from a fruit that is used as a low-glycemic sweetener).
The recipes have a European twist to them, not surprising as the brother-sister author team is from Dublin. The spellings are adorably Continental, and many recipes have their influence, but I'm pleased to see a dairy/wheat/sugar free recipe for sticky toffee pudding, one of my favorite indulgences. Most of the recipes tend to be ones that are more naturally sugar or wheat free, rather than relying on page long lists of ingredients to emulate the flavors and textures we're familiar with. That makes it easier to shop – and honestly, it's easier to rely on this cookbook because I don't have to reinvent my pantry to cook from it.
Most recipes also include a note of why it is guilt-free. The little paragraphs are great tidbits of education about the benefits of various foods and why we should endeavor to introduce more of them into our diets. I had no idea that parsley is protective against cancer. Ginger is an anti-inflammatory. And even dark chocolate gets props for its flavonoids.
The recipes are written in a friendly manner. It's less of a "Add one cup then stir" type directions and more advice of someone standing at your elbow. "This will only take a few minutes – you do not want to colour the garlic at all, just heat it through and release its flavour," as explained in sausages 'n' mash with red onion gravy.
And oh do the photos of each recipe increase the appeal, too. One look at the apple, raisin, and cinnamon muffins and I knew I had to make them. They were beyond delicious. The maple syrup was a wonderful sweetener, and if you aren't gluten free, you could easily use "regular" flour in place of the spelt called for in the recipe. When I saw the asparagus in the store recently, I knew I had to try the quinoa with new season beans, peas, and asparagus – and I'm so glad that I did.
I do feel guilt-free eating these dishes. And I love that I can tell anyone who challenges me, thanks to the educational notes accompanying each recipe. Whether you have food sensitivities or not, whether you're looking to eat more healthfully or not, The Guilt-Free Gourmet offers a variety of recipes that have been cleaned up to remove much of the guilt factor. And I need to reduce my guilt as much as possible.
In the interest of full disclosure, I received a copy of this cookbook for review purposes. I was not otherwise compensated, and all opinions remain my own.
Michelle is happy to find even more inspiration to cook, and her daughter is thrilled that she has new options, especially the mango lacuma lassi. See what else Michelle is cooking up on her blog Honest & Truly! or follow along on Twitter where she is also @HonestAndTruly.