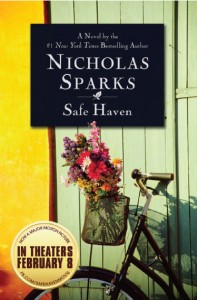 I've read some Nicholas Sparks books and enjoyed some of the movie adaptations off and on over the years. I definitely don't feel like I have to buy every book the minute they come out, but when I do read them, they usually hit the spot.
I came to read Safe Haven because my husband's grandmother gave it to me for Christmas. It had been several years since I had read any of his books, and I found this one to be a delightful change from the typical formula. The formula — that of a bit of a soul-searching and a sweet love story — works well. It works REALLY well judging by his book and movie ticket sales. While Safe Haven does deal with a woman trying to escape her past and look towards a better future, it also features a much more suspenseful, fast-moving page-turning style. It was a great combination for me, and whether you are a dyed-in-the-wool Sparks fan, or a skeptic, I recommend that you give this book a try if you like women's fiction and/or romance and/or suspense.
And judging from the trailer — just released — the movie will offer up the same great combination (as well as some Josh Duhamel eye candy). The Safe Haven movie comes out on February 8, but we have a sneak peek at the trailer for you today, as well as a great giveaway (see below).
From Relativity Media:
Cast: Josh Duhamel, Julianne Hough, Colbie Smulders, David Lyons
An affirming and suspenseful story about a young woman's struggle to love again, Safe Haven is based on the novel from Nicholas Sparks, the best-selling author behind the hit films The Notebook and Dear John.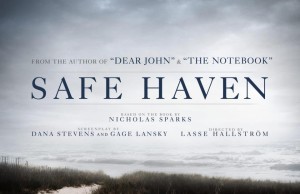 When a mysterious young woman arrives in a small North Carolina town, her reluctance to join the tight knit community raises questions about her past. Slowly, she begins putting down roots, and gains the courage to start a relationship with Alex, a widowed store owner with two young children. But dark secrets intrude on her new life with such terror that she is forced to rediscover the meaning of sacrifice and rely on the power of love in this deeply moving romantic thriller.
But even as Katie begins to fall in love, she struggles with the dark secret that still haunts and terrifies her . . . a past that set her on a fearful, shattering journey across the country, to the sheltered oasis of Southport. With Jo's empathic and stubborn support, Katie eventually realizes that she must choose between a life of transient safety and one of riskier rewards . . . and that in the darkest hour, love is the only true safe haven.
Would you like to win this great prize package?
$25 Visa Gift Card for a day at the movies
Copy of the book, Safe Haven
Prizing valued at $33.99 courtesy of Relativity Media. Open to U.S. shipping addresses only.
If you'd like to win, leave a comment telling me your favorite Nicholas Sparks book or movie (and tell me if it's the book or movie you love). We'll announce the winner on November 7. The Giveaway is Closed.
Don't miss a thing: Check out our current giveaways. Subscribe to our feed. Follow us @5M4B on Twitter or on Facebook.