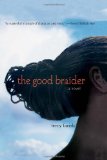 The Good Braider
is a collection of poems in free verse that tell the story of Viola, a young girl from the Darfur region of Sudan who ends up in Portland, Maine. Beautifully written, they capture the pain of the refugee experience, that feeling of being in neither one place nor another, caught between two worlds. As well, they show the exquisiteness and wonder of the world; the moon filling the African sky, the slow pace of elephants, the swirling colourful leaves on a New England sidewalk.
The story opens with Viola living with her mother, grandmother, and younger brother in Juba, in the southern part of Sudan. Those of you with even a cursory knowledge of world affairs already can imagine what her life is like. Walking to get water, she is followed by a soldier who eyes her hungrily, and when a boy tries to protect her by claiming she's his sister, the soldier shoots and kills him. Viola goes to any length to protect her younger brother while they wait desperately for their names to appear on a list that will allow them refugee status and a place in the belly of a UN plane.
When they finally manage to escape, traveling 1000s of miles north to Cairo, their journey involves plane, truck, ferry and bush-walking in the dark, and is too hard for Viola's grandmother, who must stay behind. Once in Cairo, they are again stuck in limbo, waiting for papers that will grant them refugee status and a flight to America.
America brings fresh pain. Everything is so new. When it snows, the mothers keep their children home from school because it is not safe. When Viola talks to a boy, her mother goes ballistic. They settle into the Sudanese community and Viola goes to school, a dream of hers for a long time. She studies hard, and dreams of learning to drive.
The Good Braider
is beautiful and heart-breaking, bringing to life the reality of war, various aspects of Sudanese culture, the refugee experience, and more. Viola is an enchanting heroine–strong and vulnerable, feisty and resigned. Although her story is difficult, her strength of character shines through. Author Terry Farish weaves throughout a theme of braiding. Viola is an excellent braider, but after an especially traumatic experience, lets her hair break off. Braiding is a symbol of love and acceptance, of forgiveness and closeness, of beauty.
This is the sort of book that everything American teenager should read. Ok, I'll make it everyone, since I'm long past my teen years and I loved it. I wouldn't be surprised if it ends up in high school lit classes across the country, and I hope so. There are children here who will read it and recognize their own lives, those who come from war-torn places like Somalia or Afghanistan, those who have lived lives in terror of soldiers who use rape as a weapon of war. Others, growing up in a land of reliable electricity and clean sheets and drinking water from faucets all over the house, will perhaps look at the kids sitting near them with more empathy and understanding.
The Good Braider
is a fantastic book that ends with hope. Highly, highly recommended.
Elizabeth has always wanted to do her hair in long braids. Although she never has, her daughter has had it done a few times. Learn more at her blog Planet Nomad.