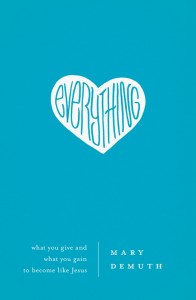 Years ago, a dear friend gave me a book by Mary Demuth: Ordinary Mom, Extraordinary God: Encouragement to Refresh Your Soul. It was a fantastic book that I've since given to countless other moms. It introduced me to the honest and thoughtful style that I've found in Demuth's other nonfiction and fiction since then. When I was offered the opportunity to participate in this blog tour, I didn't think twice.
Her newest book Everything: What You Give and What You Gain to Become Like Jesus is one of her best yet. Each short chapter gave me so much to think about.
Demuth introduces her "Everything Journey" by sharing something she pondered:
Why is it that some people can know Jesus for forty years and be stingy and untransformed? Why is it that others can exude Jesus four months after shaking hands with Him?

The answer? It has to do with what those people do with everything. They either hoard their "everything" as a means to coddle and control their lives, or they joyfully relinquish everything to Jesus. And when that second group gives up everything, they gain Jesus, who is our everything.

–Preface, page xv-xvi
The rest of this book expands upon and supports her theory with personal examples and challenges. The chapters are divided into three sections:
Head, which looks at what we think about God, love, obstacles, and worry
Heart, challenges the reader to live beyond the rules and allow our hearts to be changed by giving up control, healing, and brokenness
Hands, addresses practical concerns of money, failure, and some surprising spiritual disciplines
There are questions at the end of each chapter that prompt even deeper application of the ideas presented. These could be used to think or to journal on your own, or within a small group.
I'm happy to say that one of you can win a copy (U.S. and Canadian shipping addresses are eligible). Please leave a comment if you'd like to win. We'll announce the winner in our November 7 giveaway column. The giveaway is closed.
Want to know more?
Check out the tour schedule to see what others have thought.
Don't miss a thing: Check out our current giveaways. Subscribe to our feed. Follow us @5M4B on Twitter or on Facebook.