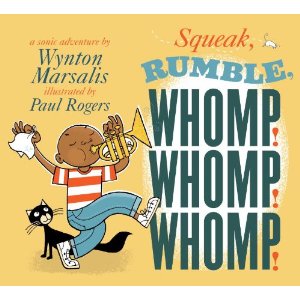 Squeak, Rumble, Whomp! Whomp! Whomp!
is very much a sonic adventure. There are so many noises in this lyrical, rhythmic journey which encourages the young reader to listen to the world around them.
"Our back door squeeeaks.
A nosy mouse eek-eek-eeks!"
Written by Wynton Marsalis and illustrated by Paul Rogers, we experience a day-in-the- life of a young boy. He is busy listening to his sister practice her saxophone, feeling his tummy rumbling and taking walks around the town. Each page spread contains two sentences which walk us through his day.
My boys were delighted with this read. Their mother also enjoyed it as it moves along at a happy pace. The illustrations give this book something of a big band/jazz feel. From the kid's red and white striped shirt to his visit to the barber shop to more obvious pictures of big bands ("Ting, tinky, ting, tap!") you'll be in the mood for some Benny Goodman, Duke Ellington or – my personal favorite – Glenn Miller. I love the kazoos, the hotdogs, the lazy day feel that Paul Rogers gave to Squeak, Rumble, Whomp! Whomp! Whomp!: A Sonic Adventure
. Not very many books make me feel the text, but I would say that Rogers has done exactly that as far as I'm concerned and that's important for this particular read. This book could be a bunch of random noises and text. While it might have been fun to say aloud, you wouldn't hear it as well without Rogers' visuals.
In short: this book is perfectly delightful.
What's even more delightful (and exciting at this present moment!) is that Candlewick Press has offered to send a copy of Squeak, Rumble, Whomp! Whomp! Whomp!
to one of you! Would you care to win? Simply leave a comment below. We'll announce the winner in our giveaway post on October 24th.
Thanks to Candlewick Press for shooting a copy of this book my direction in exchange for my honest opinion and for offering a copy up to one of our readers!
Carrie blogs about all sorts of books, including ones for children, over at Reading to Know.
Don't miss a thing: Check out our current giveaways. Subscribe to our feed. Follow us @5M4B on Twitter or on Facebook.