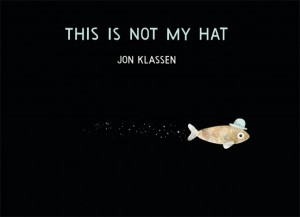 Confession: I have been sitting on this review copy for far too long. My apologies to Candlewick Press who sent this new release to me several months ago.
Excuse: First off, one should never make an excuse when they've done wrong. I've done wrong. I failed to review these in a timely manner and that's my bad. Humanely speaking though, I want to offer an excuse. I didn't get this reviewed in time because they disappeared on my children's bookshelves and I forgot about them. Then, one fine day, a child brought me the books and said, "Read it again!"
From the moment this new release from Jon Klassen arrived, it was an instant hit. This Is Not My Hat
is the second book by Klassen about a hat. When you crack the cover you meet a small fish who announces to the reader that the hat on his head is not his. He stole it. He stole it from a big fish and he is sure he will not get caught. He has a getaway plan that he is sure will not fail him. The hat will be his for all time.
Except that the big fish does find him. And he takes his hat back.
The sentences are short and choppy, just as mine are above. This writing style of Klassen forces the reader to read this book in a subdued, dead pan manner which increases the humor a hundred fold. You can't not laugh when reading this book. And the message is one I can get behind: be sure that your sins will find you out.
Just like when your children bring you review books from their bookshelves that you've forgotten all about.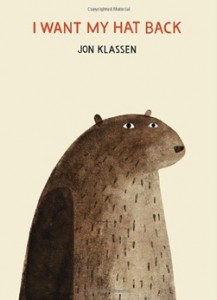 Candlewick Press was kind enough to send me the first book in this "series", I Want My Hat Back
, which I had also not read before. To some of you, this book might be familiar. For those of you who haven't yet had the pleasure, in this story we meet a bear who lost his hat. He is on a rampage to find it. He is so mad about losing his hat, he doesn't immediately realize that the bunny he talked to early on is actually wearing his hat. Things do not work out well for the bunny but the bear does get his hat back. My oldest roared with laughter when reading this one. (I'm not sure whether or not that's a good thing or a bad thing?) I truly believe though that he's a fan of dry humor which, again, this book is full of. It's a book that demands you read fast, pause in the right places and keep the voice bland. Then, it is a reading experience. (Perhaps this means my son will go for British humor?!)
Both books, as I mentioned, have been very much enjoyed by our kids. And now that I have reviewed them I shall hand them back over for their enjoyment.
Thanks, Candlewick Press, for sending copies of the above titles in exchange for my honest opinion. My honest opinion is that these books are quite funny and very enjoyable.
Carrie loves sharing stories old and new with her kids and shares about all kinds of books at Reading to Know.