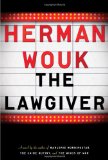 Famous author Herman Wouk, age 97, began an epic novel on the life of Moses, called The Lawgiver, 50 years ago. He had managed to tackle such enormous topics as WWII or the history of the modern state of Israel with aplomb so he imagined that he could write this story as well.
But Wouk still hasn't finished it. Instead, he's written a different book called The Lawgiver
, which is a fictional account about him working on the book, peopled with characters who want to produce a movie on the life of Moses, something on a greater scale than even Cecil B. DeMille's classic. An Australian billionaire has agreed to fund this film only if Wouk can be persuaded to act as a consultant and give his stamp of approval. This pulls the real-life Wouk and his wife of over 6 decades, Betty Sarah, into a world of fictional characters and a fictional film, and creates a most unusual book. I haven't read a lot of Wouk (which I know I need to remedy), but I thoroughly enjoyed this clever and satiric novel told in a multitude of voices.
The Lawgiver
is an entertaining read. It's a story told from behind the scenes, through emails and minutes from meetings and faxes and memos and skype conversations, and it's lots of fun. We follow different characters, in particular screenwriter Margo Solovei, raised by a conservative rabbi father in New York and now mostly apostate and living and working in LA. She's working hard to write the script and get it approved, and that means re-connecting with an old boyfriend who's stayed with the faith, and they find out they still have much to offer each other. There's also an old school-friend from New York who writes her gossipy letters, trying and failing to stir feelings of envy and jealousy.
We also get an insider's look at what it means to produce a film. From choosing an actor (fraught with tension) to figuring out funding, keeping everyone happy, and getting the work done, it's a crazy tale.
Although this is a light, quick read, The Lawgiver
is evidently written by a master. It manages to hold a mirror up to the foibles of the human race, our ambitions and flaws, our loves and losses. In addition, it's enjoyable and interesting. I doubt Wouk will ever finish his epic novelization of the story of Moses, but what's he given us instead is also a gift. Highly recommended.
Elizabeth knows she needs to read more…Herman Wouk! She is putting it on her list of resolutions for 2013 right now! Find out more of ways she plans to change herself in the coming year at her  blog Planet Nomad.