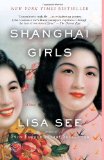 While it's not my usual go-to genre, I can appreciate well written historical fiction that paints a vivid picture of a time period or a place unfamiliar to me, bringing it to life in my mind. Having read a previous novel by Lisa See, I was excited to get Shanghai Girls, which was just released in paperback format this month. A recurring theme of hers appears to be the clash of traditional Chinese culture with the changes that come with time and relocation.
In the mid-1930's, Pearl and May live in mild luxury in Shanghai, accustomed to the small details of life being handled by their family's small staff of servants and blissfully unaware of the debt in which their father is swimming. As they spend their evenings as "beautiful girls," posing for a painter who creates their images on the calendars that adorn homes across the country, they dream of falling in love and entering adulthood in a newer and more modern China. When their family's truth is finally revealed, their world begins to collapse before them. The series of hardships that follow bring fear, shame and life-changing choices.
The power of the setting's role in this novel is rivaled by the strong narrative voice of Pearl, who tells the story of the life she shares with her sister with love, sprinkled with an often present undertone of jealousy and perceived self-sacrifices. While I was left more than a bit unsettled by the ending of this novel, which struck me as abrupt, overall I can't help but remain touched by the story. The lives of the main characters are certainly filled with pain, suffering, uncertainty and fear, which only magnifies the strength and fortitude of these characters, but even among all the ugliness, there remains a level of beauty in the devotion and love they demonstrate. While the first person narrative presents one perspective, near the end of the novel a different viewing of their shared life experiences is shared by May. As a reader, I began to question my "loyalty" to the narrator, and I forced myself to consider this opposing version, which brought a different depth to the entire novel.
As a whole, Shanghai Girls is a beautiful story of sacrifice, sibling rivalry and attachment, and the meaning of "homeland."
I chose this book as a selection from BookSwim, which is providing me a three-month paid trial membership.
Dawn's world includes wacky children, a loving hubby, and a life-long fascination with books. Oh yeah, she's also obsessed with her blog, my thoughts exactly.