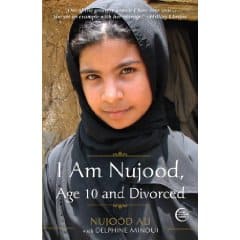 I am Nujood, Age 10 and Divorced is the true story of Nujood Ali (as told to Delphine Minoui).
That's right, by the age of 10, this young girl from Yemen had been given in marriage by her own father to a man three times her age. He promised not to be with her sexually until after one year after she started her period, but he did not keep this promise. When Nujood tried to resist him, he began beating her.
After a few months, the only refuge she found was on the rare opportunity that her husband let her visit home. It was on one of these visits that she decided to try to get a divorce.
I don't know if you like using books as I do — like a window — but this book offered a peek into Yemen and a surprising look at practices that I didn't know still occur today. The story was not told to criticize the culture, but to shine the light on one girl's sad story. I also appreciated the fact that while this is something that none of us can image happening to our own daughters, it wasn't told in a sensationalist way. Most importantly, it was an inspiring look at the courage of a young girl to fight against that which she knew was wrong.
Her story has attracted worldwide attention and has been translated into 16 languages. She was named to be a Woman of the Year in 2008 by Glamour magazine, alongside others such as Hillary Clinton.
Because of her courageous act, other young girls are speaking out, and countries are even making laws to protect girls who should never be forced to marry.
In spite of a few difficult passages, this is an inspiring and eye-opening story told in Nujood's own words. It's a short easy read that would interest women and teens as well.
Nujood's proceeds for the book are financing her and her sister's education, and will hopefully help Nujood achieve her dream of becoming a lawyer so that she can help other girls.
(This is not a YA book, but I've tagged it as teen as well, because I think that it would appeal to teen readers interested in different cultures and the advancement of women's rights).