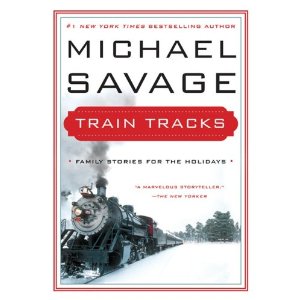 I probably should have clued in that Train Tracks: Family Stories for the Holidays was written by someone with a familiar sounding name. But I did not really take note of the author so much as the subtitle and description of the book. It's ticketed as being "a celebration of home, family and tradition" and, being a sucker for a good Christmas story, I thought I would give this one a go.
The New York Times touts Michael Savage as being "a marvelous storyteller." Who am I to disagree with the New York Times? And yet – I do. I opened up this book without realizing who the author was. I didn't research it because I rather like picking up books and not knowing very much about them. It lends an air of mystery to open a book "blind" to its contents. Of course, once I decided to stop reading it (about half way through) I did some research via Google and lightbulbs went off in my head. Michael Savage, for anyone who is unfamiliar with the name, is a conservative talk show host with very firm opinions who likes to make a splash, shall we say? While I might even agree with some of his politics (withhold the tomatoes, please) I did not care for his writing style or storytelling (if you can call it that) one little bit. In truth, I would not call him a good story teller at all.
Within the first few pages I was groaning at the writing style. I was particularly put off by the way he addressed the reader, as if in a personal conversation, only to shift gears the next sentence and return to a story for the reader to listen to. I got the feeling that he likes to talk but doesn't much care to listen to others from the way this book is written. I also found his "scatter brained" style of throwing together bits and pieces of any variety of individual stories and subjects together, to be difficult to track with. But what ultimately turned me off of this book was the foul language scattered liberally about and the way he described women and the treatment of them by scumbags that he knew growing up. From reading this book, not knowing of anything else that Savage has ever said or done (beyond my Google researching post-read), I would – and do – walk away with the impression that Savage is a low-life who has complete disrespect for females. Normally I would withhold my opinion in a case such as this, where I just do not connect with the book. However, I found his manner of explaining how this fellow he knew growing up used to "take" unsuspecting women, and his description of women's body parts, was so violently offensive to me that I feel compelled to label this book as "trash." For I do believe it is that.
This is not a cozy Christmas tale, so I would caution the reader not to assume it based on the cover art or marketing surrounding it. Savage is relating a hodgepodge of memories from his childhood. He tells us about his neighborhood, his cousins, what he thought of families who owned dogs (he liked them), etc. I question why we really need to hear his stories. He does point out in the Introduction that these stories are not extraodinary, but their ordinary nature makes them interesting. That may be true and might make some inclined to read this but as it comes across as a whole lot of dirty dribble, I'm not at all inclined to listen. For those of you who know me well as a reviewer, you know I'm not the type to get too hyped up about the discussion of women's roles but I flat out detest the way that Savage describes women as mere meat for male consumption. He ought to be frightfully ashamed of himself – as should the publisher who agreed to publish this book. I'm not remotely amused. Or charmed. I'll definitely be looking elsewhere for a little Christmas cheer.
I was sent this book by William Morrow in exchange for my honest opinion. You got it!

Carrie blogs about books she likes and some she dislikes (though more infrequently) over at Reading to Know.