Even though listening to these books back to back was a bit too much dystopia, I've enjoyed both of these very different stories, so read on to see if one or both of these series would appeal to you or someone you know. You can win both of them if you leave a comment.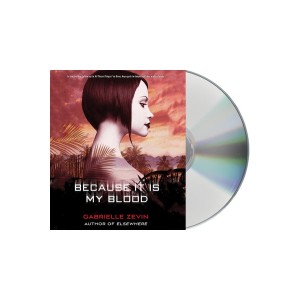 In many ways, this second installment of Gabrielle Zevin's Brithright series feels so different from the first, All These Things I've Done (linked to my review). From the wildly different cover, to the events that transpire, it's not like some series in which the 2nd book presents a slightly new obstacle to be overcome until the true meat of the matter can be revealed and resolved in the trilogy finale.
In some ways I liked this one better. I enjoyed the more typical school story set in a dystopian future that All Things Things I've Done was, but Because It Is My Blood spans countries and empires, going deeper into the events that led up to chocolate becoming illegal in the United States and the current violence and competition that is still a result of it.
Because of her criminal past, Anya has to flee New York. She disguises herself as a boy and flees to Mexico, where she is no longer known as a Balanchine, but does take back her female identity once she's safely out of the U.S. She lives with the Marquez family where she is able to learn about the growth and harvesting of cacao.
Conflict both in Mexico and for her sister Natty and her brother Leo cause her to return home, no matter what the cost to her. She also fears that she's become a danger to the Marquez family and in her time with them, she has come to love them, so though her absence hurts them, she leaves for their own good.
As I said, this installment sets up much more background and complexity, which I'm sure will be resolved in the 3rd book, but it was in no way just a filler as we await the conclusion. The end of this one hints at what is to come in the 3rd, and it doesn't sound like it will be a rehash either.
AUDIOBOOK NOTES:
Because It Is My Blood has the same confessional feel to it that the first one did, with narrator/protagonist Anya Balanchine sometimes directly addressing the reader, which makes it an excellent audiobook. Reader Ilyana Kadusin does an excellent job this time around as well. She's a great fit for the character and the tone.
CONTENT NOTES:
Though there are mature mob-ish issues and violence in this novel, I think it's okay for older middle schoolers and up, though one of the teen characters does get pregnant in this installment. There are no details about the actual act and she derides her stupidity for letting it happen.

Keep reading for a chance to win this one as well as the next.

This sequel (in a planned trilogy as well) also introduces many new characters and problems. In Enclave, we meet Deuce, Fade, and Stalker, who are forced to leave their underground hideout when they take in a girl who the others want to kill.
When they left, they wanted to find out more about what had happened to the towns that had been decimated by the Freaks, a mutant race that feeds on people. In doing so, they found the settlement of Salvation, which appears to thrive in its protected setting which has set it back in time.
When Outpost begins, Fade, Tegan, Slacker and Deuce are getting used to their new life there. Deuce struggles because her old job of huntress is not acceptable for women here. She's trying to go back to school and catch up on her education and get used to the dresses that her foster mother, Momma Oaks, wants her to wear, but it's hard.
When guards are needed to protect the new plantings from the Muties (Freaks), she volunteers, and is glad to be able to join the outpost who stays out there through the growing seasons.
This series combines the shocking violence and girl-power of the Hunger Games with the YA yearning and burning love triangle of Twilight (with an emphasis on the former and not the latter, though this second book has much more of it than the first in the series, Enclave).
CONTENT NOTE
The focus on the yearning and burning (and the exploration and description of it), along with the frightening and disturbing Freaks, leads me to recommend this to older YA audiences (probably 15 and up).
AUDIOBOOK NOTES
I've enjoyed reader Emily Bauer's other works, but I'm not sure she's right for this series. She comes across as a little too sweet for the hardened-by-life and circumstance Deuce, though with the love she is receiving from her new family in Salvation, she has become softer, so by the end of the book, the voice felt more like her.
If you or someone you love enjoys dystopian Young Adult literature, I'm happy to announce that you can win copies of both of these audiobooks in CD format (U.S. shipping addresses only). Whether you're already a fan or want to check out some new books, I'm sure at least one of these will appeal to you.We'll announce the winner in our November 28 giveaway column. The giveaway is closed.
Check out our current giveaways. Subscribe to our feed. Follow us @5M4B on Twitter or on Facebook.