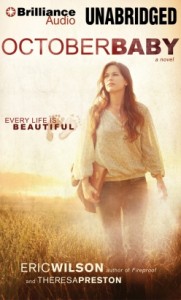 Before I even start this review, I feel as if I have to address "the issue" upfront. October Baby has been criticized as anti-abortion propaganda, and even watching it (and listening to the audiobook) with that thought in mind, I honestly didn't see it. Yes, the book/movie is about a 19-year-old young adult woman who finds out that she's adopted, and then that she was the product of a failed abortion, but how does that fact alone mean that one couldn't watch it even if one had a "pro-choice" viewpoint? I really don't understand that. Certainly not every piece of media that features someone choosing an abortion is derided as "pro-abortion"?
I know that the issue of abortion is a sensitive one. Most of us have been touched by it in some way or another, if not yourself, then a friend, a relative — someone we know made a choice when faced with an unexpected pregnancy. So — yes, that's the plot, but is it preachy? No. It's really a coming of age story with a sweet teen love story added in for good measure.
It's rated PG-13 because of "mature content," but there is no profanity and no sexual content. I want to watch it again with my teen daughter.
I love a good coming-of-age personal exploration story. College is always a time of questioning and separating yourself somewhat from your family of origin, figuring out what your dreams are and deciding if you have the guts to chase them (this theme in particular is much more pronounced in the book version). Add in the crisis of finding out you are adopted when you are a college freshman and get instant dramatic tension.
The movie was good, but the book (which I listened to on Brilliance audio) was even better. That's generally a given, except in rare circumstances, but in this case, October Baby is a novelization based on the book. So, it goes backwards. Beyond the Grease graphic novel I had (yes, complete with real stills from the movie — how I wish I had that today!), this is rarely a good thing. But I hadn't yet seen the movie and was interested in the story, so I requested the audiobook for review. It's read by Rachel Hendrix, who plays Hannah in the movie, and in some ways, it is almost like a teleplay. The descriptions are very visual. But because it's a book, there's more internal thoughts and motivations, which enhances it. I read the book first, but I would have missed some of the backstory in the movie had I just watched the movie.
Speaking of backstory, the book version does hit a little bit more on the impact of abortion, because another character comes forward and shares that she was forced to abort a baby when she was a teenager. But it still is just sharing her choice — her regret and pain over that decision. And I've never read a review of a coming of age story when a character has an abortion that is criticized as "preaching abortion." Sorry — I can't stay off that soapbox. Not the soapbox of life, which I'm pro-, but the soapbox of letting different opinions be expressed/experienced/heard.
So if you enjoyed the movie, I can recommend that you check out the book or audiobook for sure. If you haven't seen the movie, check out the book first. I'm glad I did.