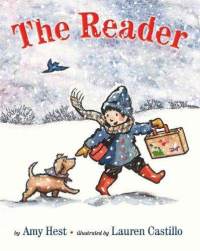 All bundled up and ready to go on an adventure. The boy has his sturdy brown suitcase, and his little brown dog is sporting a warm scarf of his own as they head out together into the snowy day in Amy Hest's delightful new picture book The Reader, warmly illustrated by Lauren Castillo.
As the boy, who is called "the reader" from the beginning, pulls an old-fashioned red sled behind him, he and his dog head toward the top of a snow-covered hill. The dog bounds along with endless energy, his footprints dotting the hill all around the straight lines of the boy's sled. After some fun frolicking in the snow, the two settle in at the top of the hill for snacks and a snuggle.
When there is nothing left to crunch or sip, they curl up close.

"And now," says the reader to the dog, "it's time."
The reader opens his suitcase and takes out the treasure that he wishes to share with his canine companion, which is nothing other than a book. The boy's reading of a book about two friends soon becomes the only thing the two are thinking about. "And the only sound in the world is the sound of the reader reading to the very last page… the very last word."
Okay, what is there not to love about this book? A quiet celebration of reading in the form of an outdoor adventure between a young boy and his beloved partner, this book is exquisitely beautiful, thanks to Hest's well-chosen words and Castillo's watercolor illustrations that convey the simple joy the characters experience.
Sometimes the beauty in a picture book can be found in its simplicity, and The Reader is the perfect example. The text isn't too complex, so it can be understood by young toddlers and preschoolers, but it still manages to seamlessly introduce some more sophisticated words that are easily explained in context. I look forward to many readings of this one throughout the winter with my own two young book lovers.
For more about this wonderful author and illustrator duo, please visit their respective pages– Amy Hest's website and Lauren Castillo's website and blog.
Dawn's enthusiasm for picture books causes her to be a book pusher among her friends and the families of her preschool students. When she's not encouraging folks to visit their local libraries, she tries to find a moment to blog away at my thoughts exactly.