Looking for a way to introduce the concept of a "scary story" to a child, but want something that is ultimately funny and not terribly scary at all? Check out the picture book Creepy Carrots, written by Aaron Reynolds and illustrated by (one of my faves!) Peter Brown. With Halloween coming up, this book makes for silly tale of a character in a spooky situation.
Jasper Rabbit is a cute little guy who can't get enough carrots. Every day, he passes through Crackenhopper Field, full of plump orange carrots popping up out of the ground, and he can't help himself from chowing down every single time– morning, noon, and night. What a lucky guy to have so many carrots available to him at all times. But, the bliss comes to an end, for one day, it appears that the carrots have begun to follow him. Dun dun dun!
In scenario after scenario, Jasper swears that he sees three carrots following him, but maybe his imagination is just running wild, for each time he turns, there are reasonable explanations for what he thought he saw. Not even his parents can convince him that he's imagining things, so Jasper comes up with a fool-proof plan for keeping those carrots off his tail. In the end, was Jasper right? Will his plan work? Young readers will undoubtedly giggle upon turning the final page and discovering the "twist" to the story.
I made a point of attending Peter Brown's talk at the recent National Book Festival, knowing that I had this book waiting for review. His talk reiterated to me how fabulous it is to hear authors and illustrators discuss their own work, for new insights are always provided, and I never look at a book the same way again after hearing its creator talk! Besides being subtly comical, which I loved, Brown talked a bit about his inspiration for the illustrations of the book. He wanted the pictures to be reminiscent of old Twilight Zone episodes watched on an old-fashioned television, hence the rounded corners of the page's illustrations (like an old TV screen) and the (mostly) black-and-white motif. (In reference to the orange that dots each page, Brown said, "It is about carrots, after all!") Brown's read aloud of the book cracked up all the kids in the audience, along with the adults, too, especially with the witty asides and commentary he added to the reading!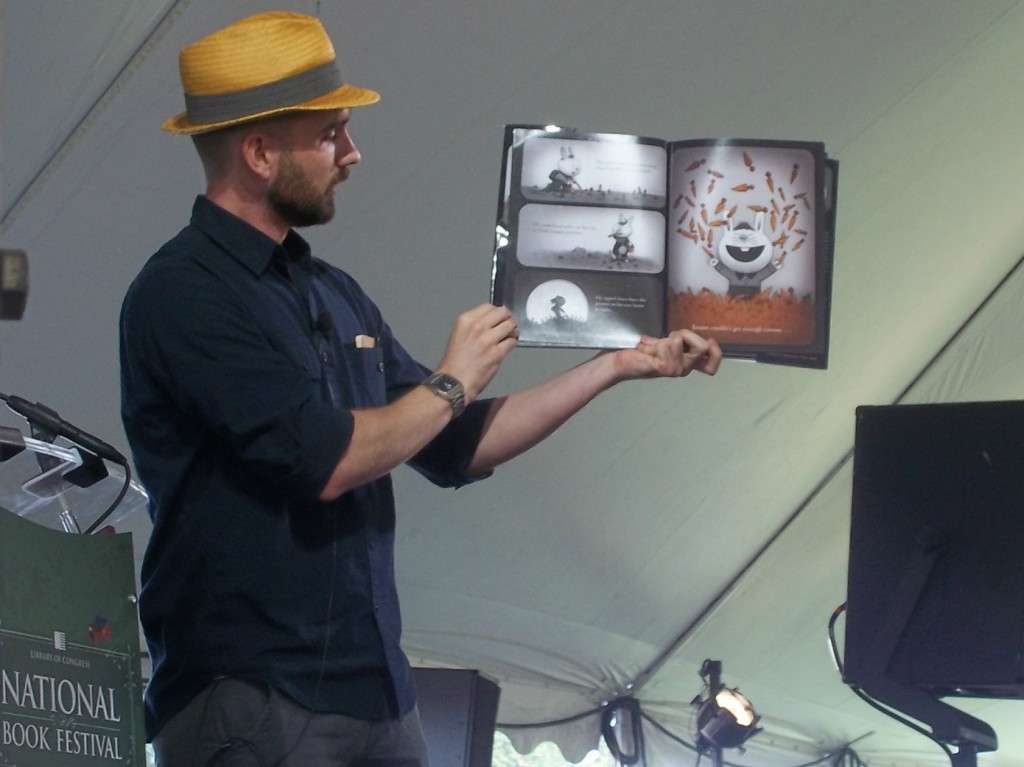 I'm pretty certain that Creepy Carrots will be getting lots of reading time in my house this fall, and I'm looking forward to sharing it with my preschool class this week, too. I'd love to hear what you think if you and your little ones have read this one. Share your thoughts in our comments!
Dawn and picture books go together like PB & J (or PB & Nutella in her house if it's Friday!) When she's able to step away from her roles as teacher and mom, she tries to write a wee bit on her blog, my thoughts exactly.