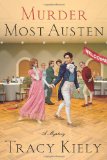 "If I had known that someone was going to kill the man sitting in 4B three days hence," reads the opening line of Murder Most Austen
, "I probably wouldn't have fantasized about doing the deed myself. Probably."
I know, that made me grin too.
The man in 4B is calculated to raise the blood pressure of the mildest traveler, though. He's Professor Richard Baines, and he's propounding the most preposterous theories about Jane Austen–that she was actually an atheist who died of syphilis, that her works are a sort of early manifesto for communism, that Marianne Dashwood's illness (in Sense and Sensibility) was actually the result of a botched abortion. Elizabeth Parker and her Aunt Winnie are on their way to Bath for the Jane Austen Festival, and unfortunately Professor Baines is going to be presenting a paper.
Perhaps not so unfortunately, Professor Baines is found murdered at a costume ball a few days later. Suspicion immediately falls upon Cora, a friend of Aunt Winnie's who has been constantly in Baines' face, offended beyond belief by his crazy theories. She has no alibi. Elizabeth and Aunt Winnie get involved in some detective work to help clear Cora's name.
Elizabeth is thrilled to be in England at last. She's an unabashed, rabid Anglophile, rhapsodizing about the joys of afternoon tea and their beautifully-appointed hotel room. However, she's also sharp-eyed enough, and well-placed as a fellow festival attendee, to find out details that the police are missing. And although Professor Baines' theories were unpopular with the Jane-ites (as conference attendees style themselves), suspicion seems to revolve more around his family–his son and daughter-in-law, his ex-wife, his current wife, his lover, and his assistant. There are tangled webs aplenty.
Murder Most Austen
is a light read, what's often called a cozy mystery. Although there are few plot spins, there are enough clues to keep the reader guessing. If you're a huge Jane Austen fan, you might enjoy this depiction of people dressing up like Darcy and Elizabeth, learning how women cared for their skin in Regency times, and more, all with a plot of murder and investigation to boot.
Elizabeth isn't a rabid fan, but she does enjoy the occasional Austen. She has never been to Bath. Learn more at her blog Planet Nomad.