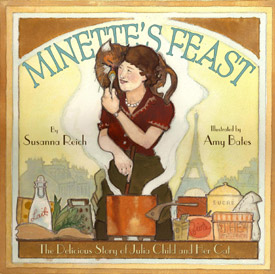 What a very fun book Minette's Feast: The Delicious Story of Julia Child and Her Cat is! I confess I haven't read it to my children yet, but I happened to love it very much!
Minette, cat of Julia Child, is the main character of this picture book. However, any adult reader knows the book is all about Julia Child and it gives us another reason to smile when we think of her. The author of Minette's Feast
, Susanna Reich, had the pleasure of meeting Mrs. Child once. Soon after her meeting she began writing children's stories and often tried to think of a way to tell a story about Julia Child that would attract and hold the attention of a younger audience. After reading My Life in France (linked to my review), Reich had the idea of writing about Child through the eyes of her cat, Minette.
In this picture book Minette becomes a member of Julia and Paul's home. Throughout the book Julia is cooking up delicious foods, trying to tempt Minette into eating something – anything! – other than mice or birds. Alas, Minette prefers dead mice to Julia's cooking. In the book we see how Julia went about Paris, learning how to pick the best potato, shopping for meat from le boucher, etc. For all of her efforts, even in bringing home fish heads from the "nice old fish lady", Minette was resolute. Mice she loved! The book is sufficiently entertaining and Reich has included a great deal of French vocabulary words throughout it, leaving me wondering how I can read this book aloud without sounding completely stupid. In the back of the book she includes a list of vocabulary words used along with its English definition. (Very helpful.) There is also some factual information about Julia and Paul, explaining who she was and why she was important to American society.
Further, the illustrations by Amy Bates are completely charming. They really capture the essence of who Paul and Julia were and how they operated their household. I smiled with every turn of the page. Here is one of the page spreads for you to look at. Behold the beauty: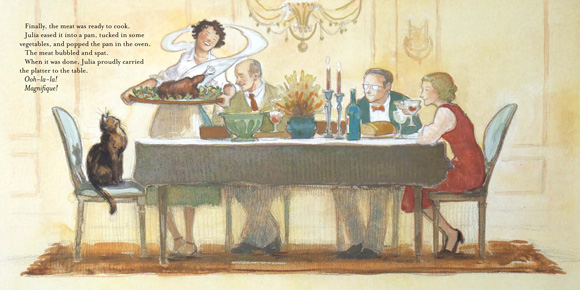 All in all, this is an endearing book and I highly recommend it! In fact, I'm going to go ahead and give this title the five star treatment – because it deserves it!
Related posts:
Thank you, Abrams Books for shooting me a copy of this book in exchange for my honest thoughts! Loved it, truly!
Carrie blogs about books for children that she loves reading to herself quite frequently over at Reading to Know.