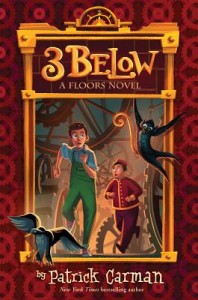 It's time to check back into the magical and wild Whippet Hotel, as Patrick Carman releases Floors #2: 3 Below. When we last left Leo in the first book Floors (linked to my 2011 review), he had been given the Whippet by its owner Merganzer D. Whippet, an eccentric, duck-loving man whose ideas and inventions never cease to surprise. As book two opens, Leo thinks life is going along pretty smoothly now that the hotel's day to day operations are no longer being managed by the awful Ms. Sparks, and he looks forward to more opportunities for exploration of the hotel's many mysteries.
Well, Leo and middle grade readers will not be disappointed as the events of the second book begin to unfold. When Merganzer makes an appearance at an important event for Leo and his friend Remi's families, it seems like just a friendly visit. What Leo and Remi soon learn is that Merganzer has another task he needs them to accomplish, and it won't be simple. In fact, the fate of the Whippet Hotel itself rests on their shoulders. But, since this is Merganzer D. Whippet we're talking about, the process of solving the problem will involve much adventure and even more surprising discoveries about the hotel. The title refers to the three underground floors that Leo never even knew existed!
Readers can expect the return some odd residents of the hotel, as well as the introduction of even more wacky characters and strange inventions. The comparison I made in my review of the first book to Charlie and the Chocolate Factory still stands, what with the overall feeling of whimsy that this series possesses. While the story unfolds at a quick pace, a sense of innocence remains even when the two boys are in danger. That "danger" is never described in a frightening way, and the boys always experience excitement alongside their worry about what will happen next.
I would peg Floors #2: 3 Below as just right for kids eight and older, though even my newly-twelve year old son enjoys this series, finding the books lighthearted and fun.
Dawn loves reading, from picture books to novels and everything in between. When she finds a few spare moments, she blogs at my thoughts exactly.