Seven years ago, my husband and I were blessed with an opportunity to visit a friend who was living just outside of Paris. It's a beautiful city, and we had a marvelous time…even though the French people are not known for their hospitality as we Southerners are. They are, however, known for their food (I have never had better desserts in all my life!).
A French culinary experience is just what Lexi Stuart wants to embrace. She leaves Seattle – her job, family, and boyfriend – to pursue her dream of becoming a pastry chef. Bon Appetit (French Twist, Book 2)
opens with Lexi's encounter with an abrupt government worker as she obtains her permit to work and attend culinary school. From there, she meets even more abrupt employers, co-workers, classmates, and instructors. In fact, few people seem to warm to Lexi. Among them are her classmate Anne. There's also young Celine and her handsome widowed father, Philippe. Philippe's family owns the bakeries where Lexi works to hone her craft.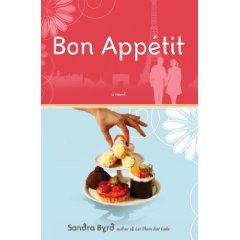 Lexi throws herself into her work, determined to be good enough for the Delacroix family to ask her to remain in France and work in one of their bakeries. But does she really want to leave her family and her best friend, Tonya, for good? What about Dan, the handsome attorney who she sort of broke things off with before leaving Seattle?
There is no easy answer, aside from praying and seeking God's will. As Lexi learns to trust God with her future, she discovers that there's nothing sweeter than the Bread of Life.
I chuckled through much of Bon Appetit
, mostly because of the French characters and Lexi's very American reaction to them. My Parisian experience helped me enjoy the book as more than typical chick-lit;the characters came to life and took me back to the streets of Paris. All in all, it was a sweet read (sorry, I couldn't resist!)
Melissa has been captivated by books for as long as she can remember. She resides in Virginia and at Breath of Life.