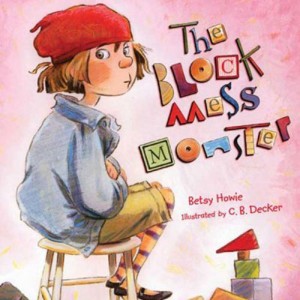 You know, children and grown-ups don't always see eye-to-eye. In her new book, The Block Mess Monster
, Betsy Howie explores this idea through the story of Calpurnia and her mother.
Calpurnia's room is a mess. There are blocks all over the floor. In Calpurnia's mind, these blocks are a monster waiting to harm anyone brave enough to come near. Of course, to Calpurnia's mom, these blocks are a mess needing to be cleaned. How can they solve their problem?
As most mothers would, Calpurnia's mom gets a little frustrated with Calpurnia's fear, especially since this fear is keeping Calpurnia's mom from finishing the cleaning. With a little creativity, however, Calpurnia's mom works with Calpurnia (and her imagination) to come up with a thoughtful solution.
This book is as cute and creative as its title. Children will love the illustrations and Calpurnia's vivacious personality. Parents will relate to the mom's frustration and perhaps be inspired to think of creative solutions of their own.
If you are looking for a fun picture book to enjoy with your children, pick up a copy of The Block Mess Monster
today. I am sure you will enjoy it as much as my daughter and I do.
Lauren is a wife, a mother of two, and an avid reader. She blogs at Baseballs and Bows.