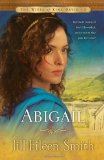 In the Bible, the story of Abigail is found in 1 Samuel. After the death of her very foolish husband Nabal, Abigail becomes one of King David's wives. Author Jill Eileen Smith explores the lives of the wives of King David in her new series, and Abigail is the focus of her second book (the first book was Michal
).
Abigail
begins with Abigail in her youth, as she prepares to marry Nabal, and continues through her life until she is one of the wives of King David living in the palace (Abigail married David before he became king). The book is fascinating as a historical novel, but because this is a story from the Bible, it is much more than a historical romance.
As Carrie mentioned in her review of A Lingeage of Grace, fictionalizing stories from the Bible can be dangerous. When I read books like Abigail
, it is important to me that the author stays true to what we know from the Biblical text, and that the author carefully handles the details that can only be imagined (I would list Francine Rivers and Lynn Austin as two authors who do this very well). Based on my reading of this book, I would say that Jill Eileen Smith has taken great care to write a story that helps us to better understand God's story. After reading Abigail
, I couldn't wait to scour the Biblical narrative, not only the verses about Abigail, but all the chapters in Samuel and Chronicles that dealt with this portion of King David's life.
Additionally, Abigail
encouraged me to give greater consideration to the lives of the women in this period, as well as the dynamics that went on inside the palace of the King. I often consider these characters from my modern perspective, and carefully written novels like these give me a better understanding of the cultural influences during ancient times that are different from some of the cultural challenges we may face today (of course, the challenges often have the same root, but they are expressed differently).
If you are interested in the wives of King David, first and foremost I would point you to the Bible, but Jill Eileen Smith's Abigail
is a wonderful work. Although I stress that it is a work of fiction, it is a novel that will help you to understand and appreciate the lessons we can learn from the lives of the wives of King David.
Lauren is a wife, a mother of two, and an avid reader. She blogs at Baseballs and Bows. Lauren thanks Revell for providing the review copy of this book.