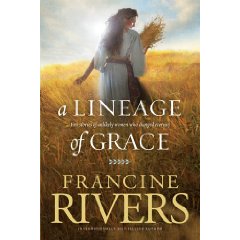 For those who have followed Francine Rivers for awhile, let me quickly disappoint/inform you that A Lineage of Grace
is not a new novel by the famed authoress, but rather it is the complete collection of the series of novellas by the same name. Tyndale recently released this collection of five stories, previously published as individual titles, into one convenient volume. Having never previously read any of the novellas from the Lineage of Grace series, I was delighted to find all five works in one book and I found it helpful to follow the historical time line of the books by having them grouped together. (Thank you, Tyndale, for your thoughtfulness in re-releasing this series into this format!)
If you follow me at Reading to Know, you'll know that I have only recently begun reading books by Francine Rivers, being of the rather strong opinion that Christian fiction writers frequently lack the polish I would typically like to see from any author of any book that I would chose to read. It is a harsh opinion, I do realize, and entirely my own. I have a hard time picking up Christian fiction but Francine Rivers is doing a great deal to turn the tide for me in this regard. I just recently read Redeeming Love for the first time (click on the title to read my review) and absolutely loved it. One of the concerns I had about it, which I stated in my review of the book, is that we might be getting ourselves in a heap of trouble by adding details to scripture and presenting scripture in the context of a piece of fiction. I'm still not quite sure what to think of that but after writing my review of Redeeming Love I immediately launched into reading A Lineage of Grace
.
If you are unfamiliar with A Lineage of Grace
, it is Rivers' interpretation and story telling of five women mentioned in scripture as being in the lineage of Jesus Christ. She tells the stories of Tamar ("a woman of hope"), Rahab ("a woman of faith"), Ruth ("a woman of love"), Bathsheba ("a woman who received unlimited grace") and Mary ("a woman of obedience"). Rivers embellishes the tales of these women to paint a fuller picture of their life experiences, based on historical details and information of the times in which they lived and based on what we are told of these women in scriptures. She does fudge the facts. I still question that. At the same time, I have to say about A Lineage of Grace
that it is moving, convicting, enlightening and life changing. At the end of each woman's life story, there is a small devotional/discussion guide for the reader or group of readers involved in this story.
I never quite understood the historical time line that these women fit into, and how their life circumstances made them remarkable choices for God to use to bring His Son into the world. I never quite grasped their sacrifices which they made as acts of devotion to a God they loved and believed in. Rivers expanded my understanding of a woman's feelings in facing the deaths of relatives, infertility, virginity, life in a king's harem, and mockery when they stood for and believed in something that no one else thought possible. I admired Tamar for the first time. I sympathized with Bathsheba for the first time. I cried with Mary at the cross for the first time.
Again, still being in the early stages of Francine Rivers books, I am impressed. And overwhelmed. Again I have to say that she is a master story teller and again I have to say that I am anxious to read more of her books and her work. She brings history and the Bible to life. I still question all the effects that some of her writing can and will have on future generations of Christian readers but I can say for myself that reading her is profitable for me.
I very much enjoyed A Lineage of Grace
as it provided continued food for thought regarding a particular genre of writing and because it stretched my faith in new – and beautiful – ways. For that I am grateful and I'm happy recommending this title to you.
Carrie comes by her book obsession honestly, having descended from a long line of bibliophiles. She blogs about books regularly at Reading to Know and Reading My Library.