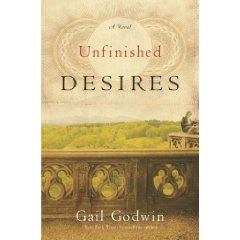 I started reading Unfinished Deisres one lazy Saturday afternoon in front of the fire and was immediately drawn in.
The story covers several generations, focusing on the Mother Suzanne's Ravenel's own class when she was a student, and spans to her old age, as she is looking back and writing her memoir of the school's history.
The main focus is the class of 1955, which happens to be made up of several daughters and nieces of women who attended the school (several of whom attended with Mother Ravenel). It was these girls that somehow created the "toxic year" of 1951, which resulted in Mother Ravenel taking a year's leave of absence.
I wanted to know more about this fictitious Catholic girls' boarding school and the undoing of Mother Ravenel which resulted in her taking a year off as headmistress. Gail Godwin set up just the right amount of foreshadowing to hook me.
It was a bit long-winded towards the end, and it's a pretty long book to begin with, but it finished strong as we see many of those girls from the "toxic year" in their own later years.
I loved these characters, and enjoyed learning more about the Catholic tradition of teaching orders of nuns. If you like stories of friendship, girls coming of age, and stories that cover generations, I would think that you would enjoy Unfinished Deisres as I did.

Jennifer Donovan never attended Catholic school or boarding school, but she loved living in a girls' residence hall in college. She often muses about friends — old and new — at her blog, Snapshot.