Of the women in Scripture, I've always identified most with the woman at the well. Not that I've had five husbands. (One is enough, thank you very much.) Or ever had to get water from a well. Something about her just resonated with me. Which made me both eager and hesitant to read Journey to the Well by Diana Wallis Taylor. On the one hand, I thought it would be interesting to read someone else's thoughts of this woman. On the other, I was afraid Taylor (with whom I'm not familiar) might take too much poetic license with the story.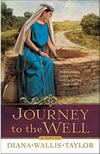 I was pleasantly surprised.
Granted, we don't know anything about this nameless woman's life before she met Jesus that day. Taylor offers a plausible narrative of her journey to the well…the five husbands, the heartbreak, and the ostracism she endured. She has done her research of how life in Samaria might have been at that time, and the cultural implications for a widowed or divorced woman. It's likely that a woman who had been widowed several times would be just as scorned as a divorced woman. Taylor gives good insight that might help us better understand what made her encounter with Jesus particularly uncommon and all the more meaningful.
Taylor states in her notes that she has attempted to create a story that will allow us to see the woman at the well as Jesus must have seen her that day, regardless of her background. I've never been a fan of novelization of Scripture, but Journey to the Well is a well-written, thought-provoking book.
Melissa has been captivated by books for as long as she can remember. She resides in Virginia and blogs at Breath of Life.