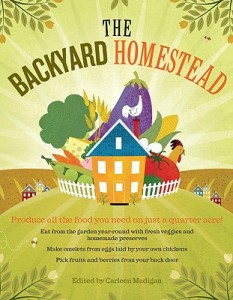 I am not a farmer. Or a gardener. But I work really hard at pretending I am one. This is my husband's and my first active year at growing our own food and we're learning as we go. It was for this reason that I was curious to read through The Backyard Homestead
. When I say "read through" what I really mean is, "browse through and glean from." Maybe you've seen a copy of this book before. It's subtitled: "Produce all the food you need on just a quarter acre!" If you live inside the city limits, it might be more accurate to say, "Produce all the food you need on a quarter of an acre while raising the eyebrows of your neighbors." Especially if you decided to keep goats. Or bees. But maybe your neighbors also own a copy of this book. If they don't and you do, you might consider gifting them with a copy as well. At least then they would know what to expect!
I have to tell you that our family lives on more than a quarter of an acre and so this book feels much more practical to me. That said, I do have friends (who are also conscientious about how they treat their neighbors!) who live inside the city limits and have used this book as a reference. Their neighbors eyebrows might be a bit raised, but ultimately no one minds their miniature farm. My friend's garden is also infinitely more impressive than my own.
Mostly, to date, I have found this book useful when it comes to explaining that you should watch your property and take notes up to a year before you go about planting a garden. Watch to see which places on the property receive more sun than others, etc. Yes, this may sound like very basic advice. Practically a no-brainer. I realize this. But I needed this practically explained to me because my habit in life is to say, "HEY! That sounds like a GREAT idea!" and then I go about implementing said idea before thinking through how I might make it most successful. So this year I watched for sun. Thankfully I had also decided to start off my gardening endeavors by using EarthBoxes and planting on our deck. The EarthBoxes have wheels and so I was able to roll them to the side of the deck which ended up having the most sun. And I have grown plants! I offer you photographic proof!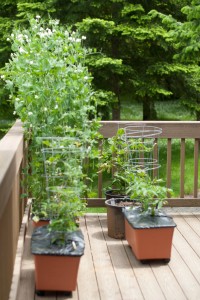 The tall things covered in flowers were my snap peas, which produced beautifully. The smaller plants were my tomatoes in their "infant" stages. They are now huge and heavy laden with tomatoes. Success!!
I also like The Backyard Homestead
for the advice on tending to fruit plants. This year I planted raspberries (which are growing!) and have been learning to tend to the cherry trees and this book has some practical tips for dealing with fruits. Other things that this book talks about:
Growing herbs. (I grew one bunch of cilantro. In cold Oregon. I need to pick another sort of herb to grow because my cilantro wasn't really something that you could call a "bunch." I should instead say that I grew some cilantro leaves.)
Designing a space in which to grow a vegetable garden. (Deck gardening works for us due to threat of deer.)
Preserving your harvest. (I'm still anticipating that one!)
Making wine (from your own grapes, of course)!
Growing and harvesting your own grains.
Raising chickens for eggs and meat. (We plan on adding chickens to the property next year. Planning ahead, see?!)
Raising and keeping goats. (We have not eliminated that possibility for ourselves.)
Making your own sausage. (We have eliminated that one for ourselves!)
It's very fun to dream of the things that you would like to do on your own property – no matter the size. I like the idea of being more self-sufficient. I like deck gardening in Earthboxes because it means I don't have to weed anything. And I like the feeling of working hard for something and reaping the rewards. It's a very satisfying feeling.
This is an area in which I have much room to grow (pardon the very bad pun) and things to learn about. I like resources like this one because I can pick it up and browse for info when I have time or a situation which requires a little input from an outside source.
Are you a practicing or wanna-be homesteader? What have you been working on in your yard? I'd be very curious to hear your gardening stories and successes!
Thanks to Storey Publications for sending a copy of this book my direction in exchange for sharing my honest thoughts. I honestly love the book!
Carrie blogs about books and how they relate to every day life over at Reading to Know.