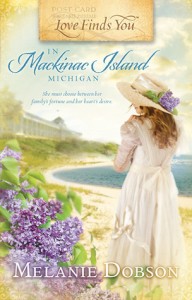 Love Finds You in Mackinac Island, Michigan by Melanie Dobson is part of the Love Finds You series from Summerside Press. Each book is a standalone story set in a different town in the United States and draws on the unique character and history of each place to set the tone.
As the summer of 1894 begins, Elena Bissette is standing on the windy deck of a boat that is making its way to Mackinac Island, a popular vacation spot for Midwestern society's elite. Elena has been coming here with her family every year for as long as she can remember, but this year is different. This year the Bissette family is reeling from a series of business disasters that have left them on the brink of bankruptcy, and Elena's mother is convinced that only an advantageous marriage between Elena and the illustrious Chester Darrington will save them.
Unfortunately for her mother's hopes, Elena is the sort of girl who is not interested in falling all over young men; she would rather sneak out at night to watch the stars from the island's old lighthouse. And Mr. Darrington is much more interested in finding the next great invention than in being tricked into marriage by someone who is only interested in his money and place in society.
Although Elena is not looking for love, it finds her in Chase, a young man whom she meets at the lighthouse. While they are watching the stars and trying to solve the mystery hidden within the diary of the previous lighthouse tenants, her mother is continuing her attempts to introduce Elena to Chester Darrington.
Despite following a well-worn path in terms of both characters and plot, Love Finds You in Mackinac Island, Michigan is an enjoyable novel with a charming setting, and I found it to be a delightful diversion in the middle of a summer week.
We are pleased to have one copy of Love Finds You in Mackinac Island, Michigan available as a giveaway (US or Canada mailing addresses). Simply leave a comment if you'd like to win. We'll announce the winner in our giveaway column on August 15. This giveaway is now closed.
The winner of Horten's Miraculous Mechanisms is #7 Amy at Hope is the Word.
Other Inspiring Historical Fiction
Don't miss a thing: Check out our current giveaways. Subscribe to our feed or video reviews on YouTube. Follow us @5M4B on Twitter or on Facebook.