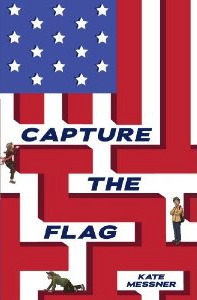 Take the secrecy of The Da Vinci Code and the action of National Treasure, transform them into a middle grade novel and the result is the wonder that is Kate Messner's new book, Capture the Flag. A mysterious romp with secret societies and a grand theft, this novel is intended for an audience in the 8 – 12 year old range.
From the publisher:
Anna, José, and Henry are complete strangers with more in common than they realize. Snowed in together at a chaotic Washington D.C. airport, they encounter a mysterious tattooed man, a flamboyant politician, and a rambunctious poodle named for an ancient king. Even stranger, news stations everywhere have announced that the famous flag that inspired "The Star-Spangled Banner" has been stolen. Anna, certain that the culprits must be snowed in too, recruits Henry and José to help catch the thieves and bring them to justice. But when accusations start flying, they soon realize there's more than justice at stake. As the snow starts clearing, Anna, José, and Henry find themselves in a race against time (and the weather) to prevent the loss of an American treasure."
I like that synopsis for it introduces several aspects of the mystery that this trio of new pals work to solve, but there's so much more to the story than even that lengthy description can address. Serious, real-world issues are in the background of this entertaining story, as well. In an election year, the business of politics and politicking are all over the news, and through this fictional depiction, young readers get a taste for what that can look like, both good and bad, as a few members of Congress and a presidential candidate are prominent characters.
But really, the major appeal of this novel is in the action. Messner is a great storyteller, laying down pieces of the mystery deftly in a way that I imagine young readers will begin to pick up on as they go along, feeling proud to put some pieces of the puzzle together. The action and danger levels are appropriate for this age group, building a level of suspense that is just right– not too violent and not at all graphic, but still suspenseful enough to keep readers engaged.
I love the idea of the secret society that is central to this novel, especially for the mini history lessons provided! Capture the Flag is book one of a projected three-book series, and I predict that elementary and middle school aged readers will be waiting anxiously for the next installment.
Dawn has no shame in being a thirty-something year old fan of middle grade fiction, for she truly feels in touch with her younger self when reading this genre. When she's not escaping into books, she can be found blogging away at my thoughts exactly.