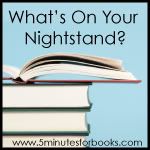 Summer is definitely winding down. I know for me that will bring to an end my special morning reading time. Instead of rushing to get ready for my day and getting my kids off to school, I take advantage of our slower-moving mornings to spend some time with my coffee and a book. I'll just enjoy it while it lasts!
I'd love to hear about your summer reading schedule — what you're reading, and even how/when if you'd like to share. Tell us what you hope to get to "on your nightstand" over the next month.
If this is your first time participating, put "first time" beside your name when you link up, so that we can give you an extra-warm welcome.
Are your kids reading more this summer? Or perhaps you're looking for ideas to keep them reading? We'd love for you to join us in our monthly Kids' Picks carnival on the 2nd Tuesday of each month. The next one will be August 14. Come back and join us!
See you for next month's Nightstand on August 28 (when summer will really and truly be over or almost over for all of us on the back-to-school schedule).
Check out our current giveaways. Subscribe to our feed. Follow us @5M4B on Twitter or on Facebook.