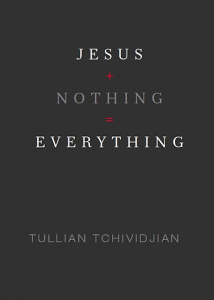 Yes, as a book reviewer, I get a lot of books for free (in the hope that I'll review them and give the author/publisher/book some publicity), this one included. It's a win-win situation for me and the publisher, and I hope that you booklovers enjoy getting a heads-up about books that you might want to read, finding out a bit more about books that are in the spotlight, or uncovering a hidden gem that you might not otherwise have known about. But you might wonder about us book reviewers. Do we really like everything we review? We try to be honest, but I also keep in mind that an actual person spent time writing the book, so I'm not likely to trash it. In fact, if I find that I can't recommend a book, I generally just choose not to review it.
But when we rate a book a 5-Star Read, you know that we truly love it. For me, another litmus test of how much I like a book is how many people I buy the book for (or insist they buy it for themselves). I will start out this review of Jesus + Nothing = Everything by Tullian Tchividjian by telling you, dear readers, that I have personally purchased the book for at least four people, and highly recommended it to another friend (for whom I will probably end up buying a copy).
This book is not for everyone. It's not a light read at all. This is an in-depth look at the doctrine(s) of the sufficiency and supremacy of Christ, how faith and works come together in the life of  a growing believer to God's glory and so much more. Tchividjian, one of Billy Graham's grandsons, opens the book in the way that many Christian living books do — telling about a personal and professional crossroads that he had reached that caused him to examine what Jesus meant to him. However, after that someone easy-reading section, he delves deep into scripture, focusing on the book of Colossians, but in a topical way, not a verse by verse study.
I started off marking sections of interest with post-it flags, but there quickly became too many to be useful. I found chunks of text on each page that were so profound or that I wanted to remember. I realized that this was a book that I would want to revisit soon, perhaps journaling my way through it. Fortunately, I noticed that there is a comprehensive topical index for me to refer to if I am teaching or need a word of personal encouragement. The other thing that helped alleviate my disappointment that the book was ending was a book list. So when I finished this one, I could read others that the author recommends.
After the initial personal section, I went through this book very very slowly, reading only a few pages each morning to give it a chance to sink in and take hold.
This book explores a crucial doctrine in the life of any Christian, but it's one that has not been exhaustively explored. If you are looking for some solid meat in your spiritual diet, I can highly recommend Jesus + Nothing = Everything.