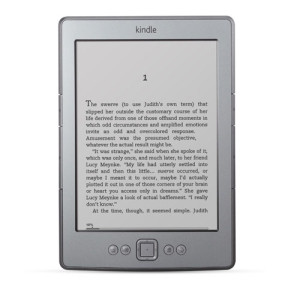 Technology marches ever onward, changing everything in its path, mostly for the better. It would be naïve to think that books would be untouched by the winds of progress. And changed they have. Every year, eBook sales rise skyward as the book industry changes before our eyes. Some of us resist this change at every step, viciously clutching our books of the dead tree variety and heaping scorn on the new fad of electronic books. Others are timidly curious about these newfangled devices, wondering what the entire buzz is about. And still others have become early adopters, diving head first into this brave new world of reading. Whatever your stance may be, eBooks are here and here to stay, so you might as well learn to live with them. A good start is to learn how they work, and how they differ from the books of old.
E-Ink
Electronic devices that display text are certainly not new; there have been computer displays capable of displaying text for several decades. The problem with these screens is that they are lit from the backside, with the light source shining through the display into the user's eyes. While this setup works great for viewing videos, scanning web pages, and light reading, it tends to fatigue the eyes during longer stints of reading. Thus reading on electronic displays was not really a practical substitution for reading a traditional book.
This all changed with the development of E-ink displays. E-ink displays are not backlit; in fact, they are not lit at all. The contrast between the white or off-white background and the dark text provides a great reading experience without fatiguing the eyes. E-ink displays contain thousands of tiny spheres that are half dark colored and half light colored. These spheres are also magnetic. To display and image, electrical currents behind the spheres provide the correct charge to change each sphere to display the appropriate color for its location on the screen, light for the background, and dark for text.
EBook Pros
Now that you know how an eBook reader's display works, we can cover the features they provide. Besides the E-ink display, an eBook reader is essentially a hand held computer, similar to a tablet. Some of them have touch screens, headphone jacks, web browsers, and other apps. As far as reading goes, these devices have many advantages over books. EBook readers can hold thousands of books at one time, they have built in dictionaries, they allow you to change the text size, they let you add bookmarks and notes, and you can even search for words or phrases in your books using the search feature. You can also buy and download new eBooks to your reader using wireless in a matter of seconds. These readers are also very light and have excellent battery life.
EBook Cons
Of course these readers are not all good. Old fashioned books do have several benefits over these new contenders. First of all, regular books never run out of batteries. The contrast that books provide is also better than the current electronic readers as well. Some versions of books can contain small formatting errors such as missing words or spaces, which can be distracting to some book lovers. Standard books can also be easily sold, traded, and loaned to friends, which is a big part of the social aspect of reading. There is also the entire sensory experience that books provide; the smell of the pages and binding, the texture and weight in your hand, the sound of a page turning. And many would greatly miss the experience of visiting a bookstore in search of a new novel to add to their collection; a collection that they can admire and organize and sift through.
The Last Word
It really is up to the individual reader to decide whether eBook readers are right for them. In fact, most people will likely find that they have use for both methods of reading depending on the circumstance. But there will be those who hold firm on both sides of the eBook issue. And that is Ok, as this is human nature. Just remember, the clay tablet and the scroll likely had some diehard fans as well.
Guest contributor +Brian Burtonis a children's book enthusiast and online publisher for childrensbookstore.com who writes on the topics of reading and parenting.