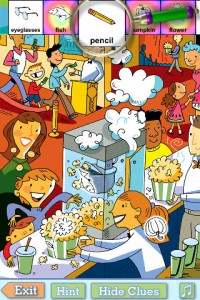 Disclaimer alert! I have such fond memories of Highlights magazines and especially the Hidden Pictures feature from my childhood I can hardly contain my glee at getting the opportunity to review these two new apps!
MoBaD games has two Hidden Pictures to choose from and because my little man is 3 ½ he is really on the cusp of the recommended ages I was eager to try them both out. He has done Hidden Pictures in the magazine and online on the Highlights web page so I knew he was actually quite good at finding all those crazy little items. I of course as a mother excel at finding all things lost, misplaced and hidden so I had to try them out as well!
First up was My First Hidden Pictures based on the classic but just a little easier for younger children (see screenshot left). Featuring eight puzzles (plus 2 bonus puzzles if you register) with almost 100 hidden items children can play again and again gaining confidence in their abilities. I did two with my son and showed him how to use the Hint feature if he was really stuck finding an item. He caught on instantly and has done them all several times and is so proud to show me he knows where they all are. The sounds when you tap a non hidden item are cute and as far as games go the music is not too bad and it can be turned off. I like knowing when he does tire of these puzzles I can access more from the latest Puzzle Packs.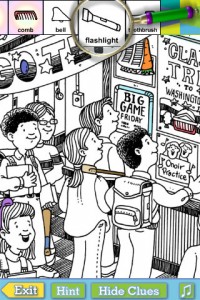 Next up was Hidden Pictures (see right) which is recommended for ages 4+. As I expected it was challenging for my son but it gives us an opportunity to play together. At first he wanted a hint for every other item but we talked about sticking it out and looking a little harder. In the end he needs a couple of hints per puzzle and I like that it narrows down your search area for you and that is usually enough for him to get it. I was worried that it wasn't going to translate well from my childhood favourite to this format and also that an iPod screen was going to be too small to see the game. I was wrong on both counts! It just works and is still timeless and oh so satisfying when you finally find that last item!
Now if I could just teach him to find his "lost" toys with such ease!
Tennille lives in the Great White North with her hubby and two sons. She enjoys sleep but is learning to appreciate caffeine as a perfectly viable substitute.